Greenways
Greenway Report: These 6 Bike Paths Are in Unacceptable, Incomprehensible, Outrageous Disrepair
Hey NYC Parks, these city greenways desperately need some TLC.
12:00 AM EDT on September 15, 2023
The city's sprawling network of bicycle and pedestrian greenways has long been in need of help.
They're key connectors and sometimes the only safe cycling routes through vast swaths of the five boroughs, but some stretches have suffered from years of neglect as city officials, mainly the chronically underfunded (and allegedly anti-bike) Parks Department, struggles with basic upkeep or does poor repair work.
Advocates have called on City Hall to properly fund and reshuffle greenway maintenance so that the Department of Transportation can fix the often-cracked pavement, while Parks stays in charge of the greenery (overgrown vegetation has become a problem among DOT-run greenways).
Streetsblog has frequently covered some of the best-known offenders, like Ocean Parkway or the uptown portion of the Hudson River Greenway, but this summer, we decided to fan out to half a dozen other greenways that require just as much attention.
Bobby Wagner Walk (Manhattan)
The East River Esplanade between 90th and 125th streets is called the Bobby Wagner Walk, named for the son of a three-term mayor and a city official in his own right.
The paths are near Wagner's former home on 89th Street, but it's not likely he would use them if he were alive today, since they're in such poor shape and even partially closed. 
The city used hexagonal tiles, which are prone to cracking, becoming uneven, and removed from the path, making for frequent potholes. There was a sinkhole at one location that pulled down a lot of these six-sided tiles, where the city fenced it off similarly to another recent cave-in on the Hudson River Greenway, and tree roots have broken through some sections of the path.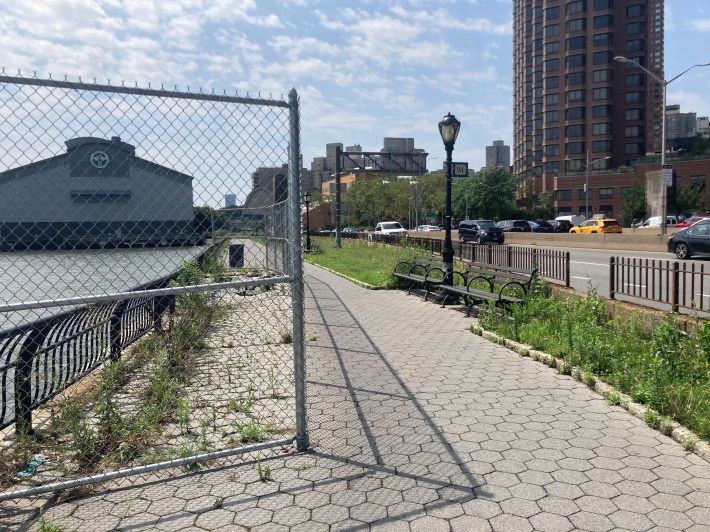 The city has simply filled in the missing tiles with asphalt, leaving behind bumps for cyclists, rather than repaving the entire pathway to make for a smooth ride. 
The path also has terrible lane markings, in most cases they're completely faded. 
The bike path abruptly ends with a chain link fence north of 114th Street and you have to take a pedestrian bridge over FDR Drive to get out of the greenway.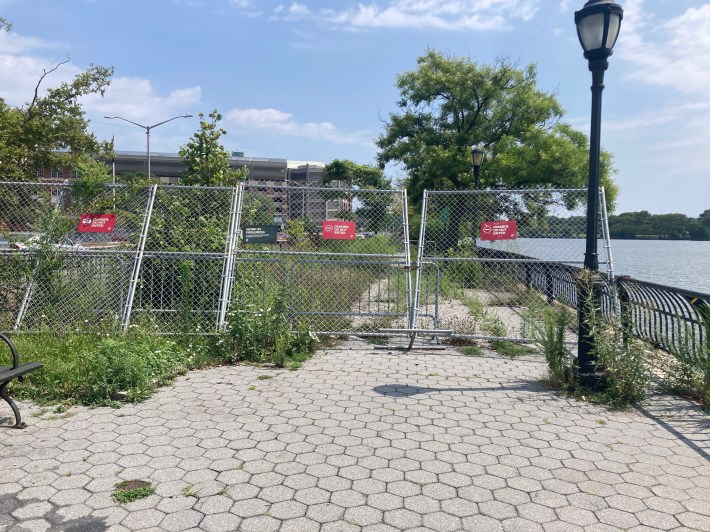 In general, the lane north of 90th Street has very little utility, and the ride is not worth it, even as a leisure ride. 
Leif Erikson Park (Brooklyn)
Right off the bat, the Third Avenue entrance to the Leif Erikson Park greenway was blocked by a parked car, and things got worse on this southwest Brooklyn bikeway from there. 
The unmarked path looks as if it hasn't been visited by the Parks Department in years. The hexagonal pavers make the terrain extremely bumpy and there are bushes, weeds, and low-hanging branches that intrude into the trail. There were also piles of garbage littering the path throughout.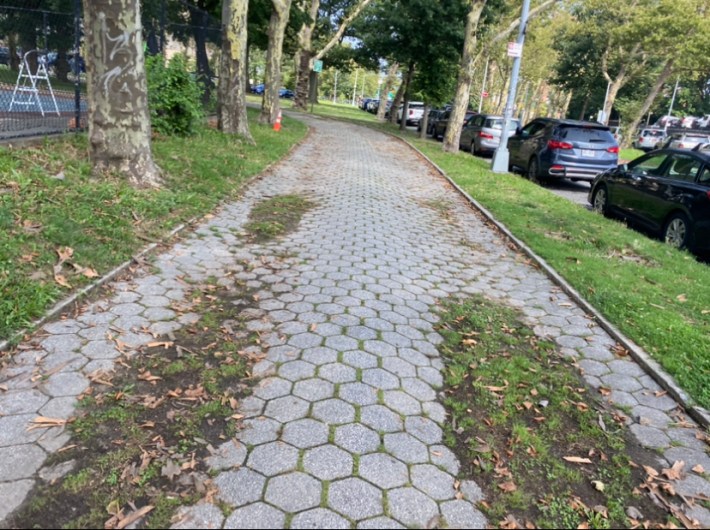 Near the end of this segment there was a giant bump that could be thrilling for a professional motocross athlete, but not a mother with her child in the baby seat, or someone with a disability using a mobility device. 
At the end of the block, the old-timey pavers switch to blacktop (which has also seen better days) and to continue on past Fourth Avenue, cyclists and pedestrians have to cross over a wide two-way road capable of holding six car lanes. 
The path stays bumpy and unkempt on the short section after that. Suddenly, the offshoot road Shore Road Drive bisects the bike and walking path, and there are no signs warning drivers zooming toward the Belt Parkway to slow down and stop for people crossing.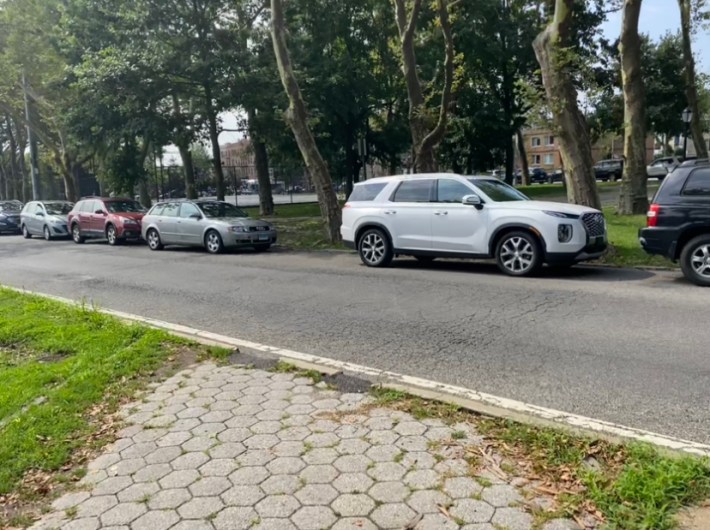 To cap it off, there was another car parked right in front of the bike lane entrance here, too.
It doesn't look like much has changed since 2018, when Streetsblog called this stretch possibly the worst "protected" bike lane in the city.
Belt Parkway (Brooklyn)
The shared path running alongside to the roar of cars on the Belt Parkway was largely well paved, but still had some issues. 
Parts of the path were too narrow two-way traffic either due to overgrown vegetation — a common issue on other greenways managed by the city's Department of Transportation — or because of randomly-placed bollards at a bridge that made an already tight pinch point worse.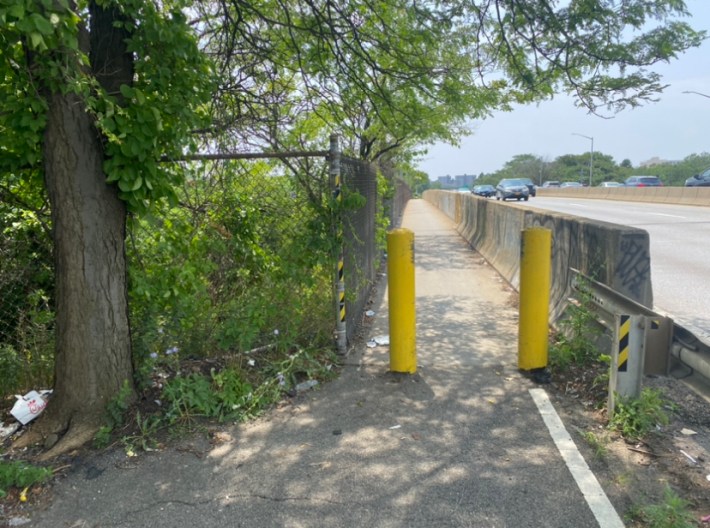 Every so often there were a few decent sized cracks that are quite unpleasant and hard to see, and there were some intermittent rough bumps in the concrete.
Flatbush Avenue (Brooklyn)
The "greenway" on Flatbush Avenue — one of the key connectors from mainland Brooklyn to the Jamaica Bay and the Rockaways — is a cruel joke. 
Along the edges of Marine Park, signs tell cyclists to use the sidewalk, because apparently none of the six lanes of car traffic on Flatbush could make way for a dedicated bike path.  
The sidewalk is cracked, overgrown, and had some especially harrowing bumps, giving it the look and feel of an afterthought at best.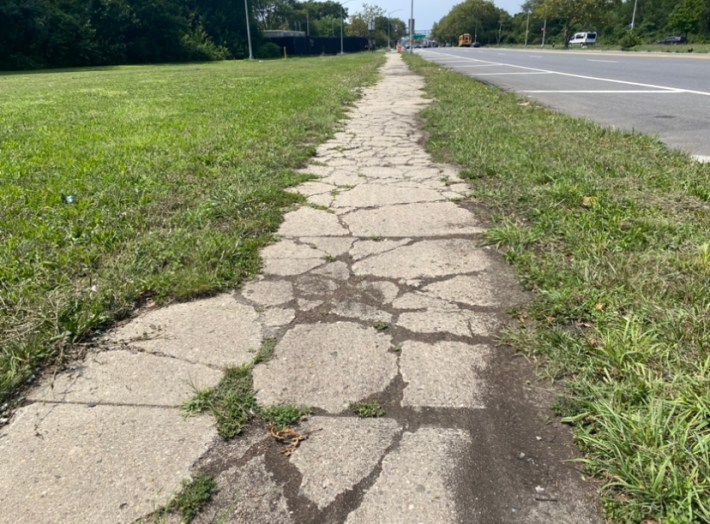 There were many short crossings at the Belt Parkway interchange that didn't have any stop signs for cars zooming off the highway, but there were signs telling pedestrians and cyclists to stop.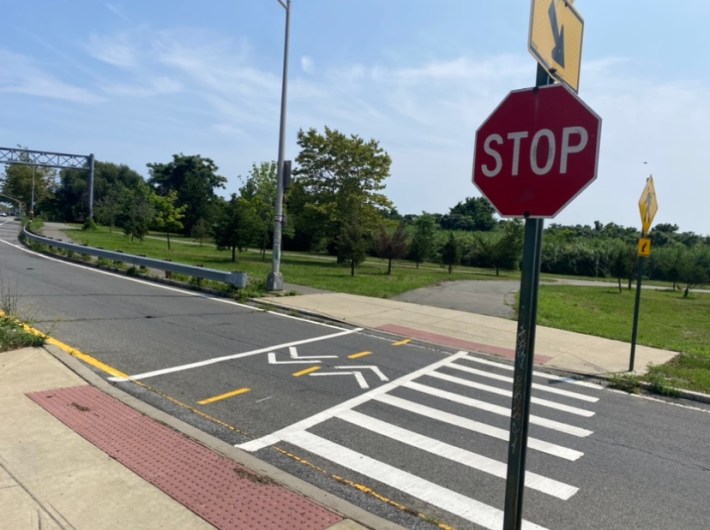 The bike lane annoyingly switches sides on Flatbush twice, but the lights at the crosswalk took forever to change, and then stayed white for maybe 10 seconds for me to traverse the busy speedway, reinforcing whose movement the city prioritizes here.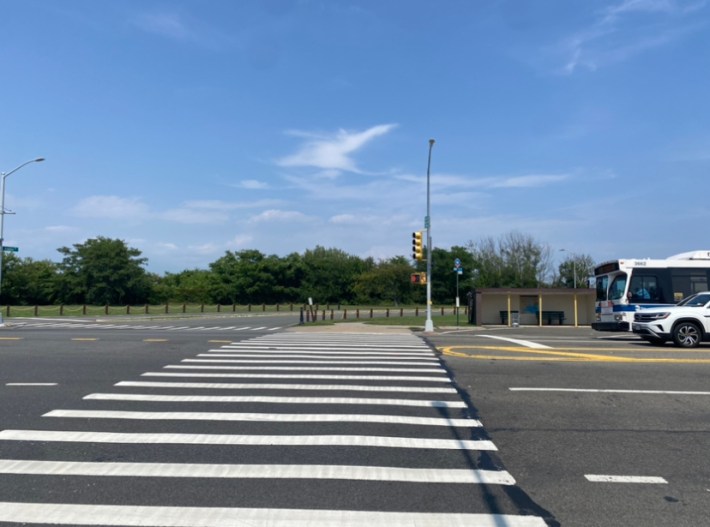 Pelham Parkway (The Bronx)
One of the Bronx's key bike and pedestrian connectors along the Pelham Parkway needs to do better, especially its connections coming from the nearby New York Botanical Gardens. 
Starting at the western flank of the plant paradise, the bike paths were disrupted by a gate being closed as it wasn't "school hours," during a recent visit.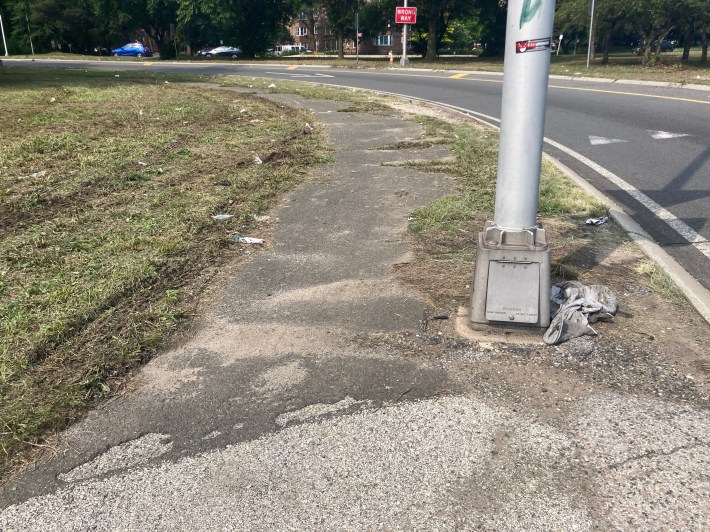 Some of the bike lanes in the botanical park are atrocious as well, lacking markings, but with root bumps or cracks in the pavement.
The supposedly two-way bike lane and shared pedestrian path was so narrow on the overpass crossing the Bronx River that maybe one biker could get through there, and there's also no barrier between the path and cars zooming past beyond some stripes of paint and the raised curb.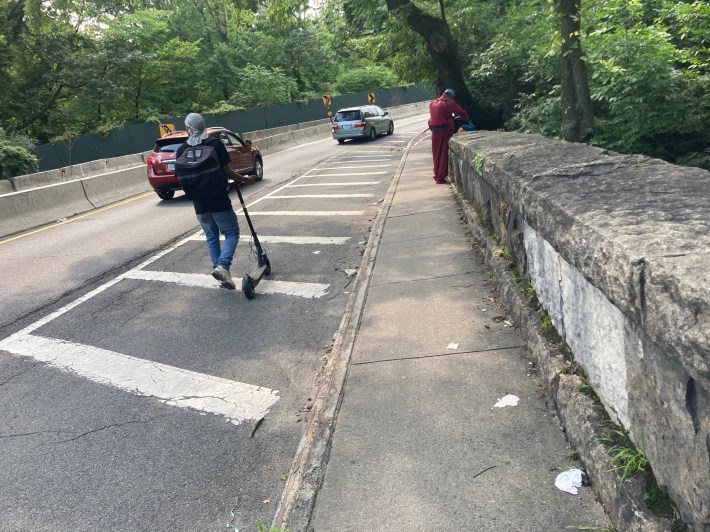 Cyclists and pedestrians have to cross dangerous exits and entrances to the roadway, and cars frequently sped past without stopping. 
The Pelham Parkway entrance is currently under construction, but to get to any of the bike lanes, you must go on regular roads with car traffic.
Once you make it onto the parkway's shared bike and pedestrian path, it is completely contained in a linear mall, similar to parkways in other boroughs. Similarly to those, there are many instances of terrible bumps because of tree roots or potholes.  
Kissena Corridor Park (Queens)
On these eastern Queens paths, it's a tale of two greenways.
The route connects several parks and runs along former Long Island Rail Road right-of-way and a once-private race course owned by the Vanderbilts.
Unfortunately, the greenway is interrupted several times along the route, where we had to ride with regular traffic, sometimes crossing wide suburban-style intersections, but we were pleasantly surprised on the eastern section of our itinerary.
Starting at Kissena Park, the paths were in poor shape.
Muck narrowed some sections and there were cracks and it didn't get better after that with potholes all along this stretch.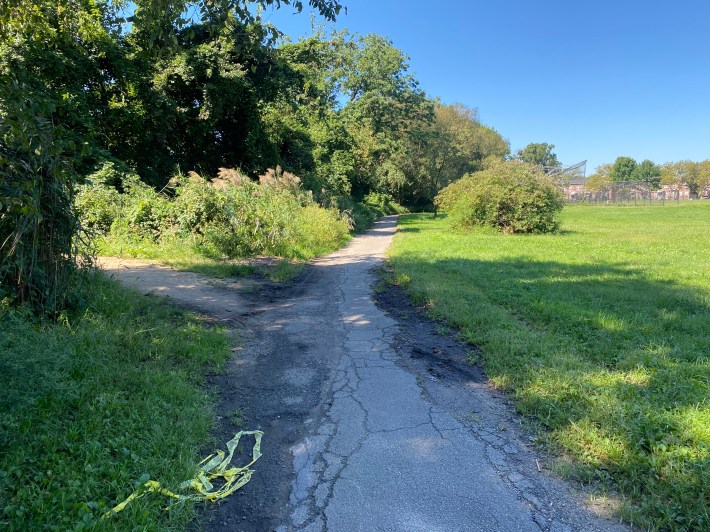 We had to leave the greenway and cross two-way traffic on 164th Street to continue on Underhill Avenue, which was much quieter and pleasant.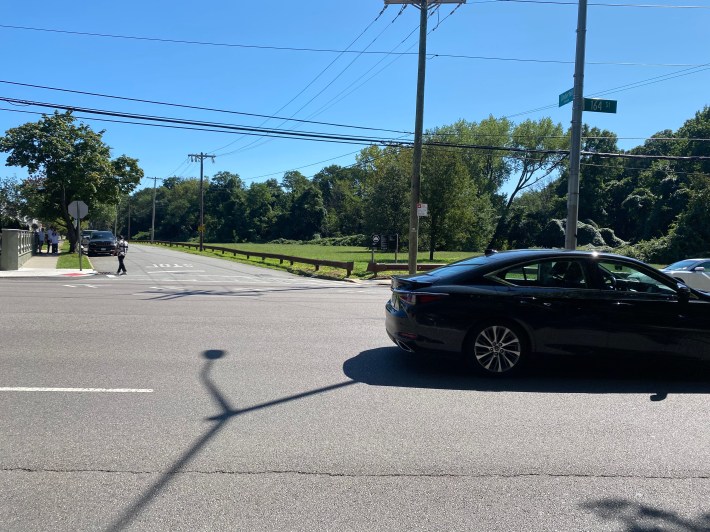 Once we entered the protected paths again at 170th Street, we got to the worst greenway section on the entire stretch, even if it was only for a few minutes.
The two-way portion of lanes running along the northern border of a golf course were half covered in overgrown weeds and tree roots cracked through the pavement on the other half, rendering it an unsafely tight and bumpy ride.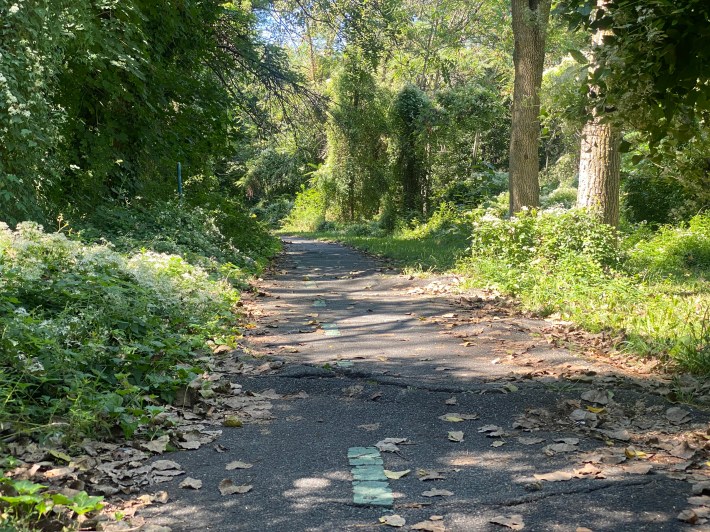 Things changed for the better at Cunningham Park, where the greenway becomes wide and smoothly paved.
This stretch is known as the Vanderbilt Parkway, a former race track built by William "Willie" K. Vanderbilt II in the early 1900s, before becoming a private toll road for the elites to drive to their Long Island estates, and finally transforming into a bike path along its Queens section in the late 1930s under then-Parks Commissioner Robert Moses.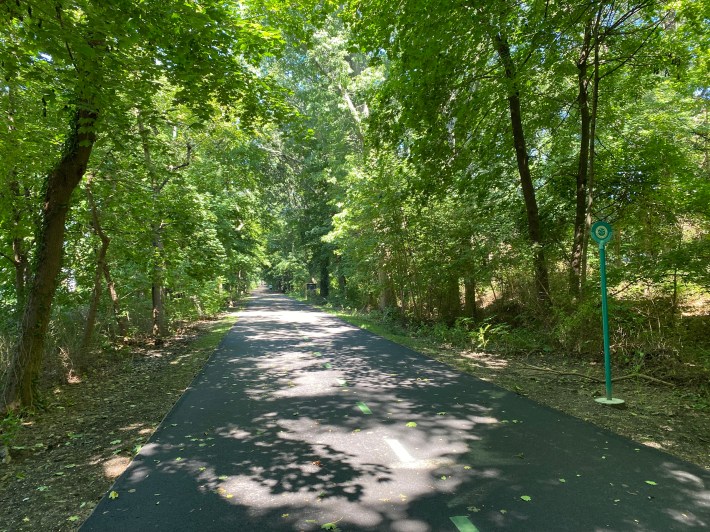 The scenic greenway was idyllic for almost the entire stretch, except for a bizarre barrier blocking off half the road near an overpasses. There was also creepy underpass with a pothole puddle.
Beyond that, it was a blissful ride all the way to Alley Pond Park, and even though it spawned out the early car culture of a bunch of robber barons, its size and state of good repair should be a model for greenways from Flushing Meadows to Fort Totten.
Kevin Duggan joined Streetsblog in October, 2022, after covering transportation for amNY. Duggan has been covering New York since about 2017 after getting his masters in journalism from Dublin City University in Ireland. After some freelancing, he landed a job with Vince DiMiceli's Brooklyn Paper, where he covered southern Brooklyn neighborhoods and, later, Brownstone Brooklyn. He's on Twitter at @kduggan16. And his email address is kevin@streetsblog.org.
Auden Oakes is a member of the Streetsblog intern class of 2023.
Jonah Schwarz is a member of the Streetsblog intern class of 2023.
Stay in touch
Sign up for our free newsletter