Micromobility
The Moped Crisis — An Analysis: The City Needs a Systemic Fix, Justice for Workers and Accountability by Tech Giants
Mayhem — and, more accurately, the perception of mayhem — on the streets of the city is provoking a new backlash against delivery workers. But are poor workers really the ones to blame?
12:00 AM EDT on August 23, 2023
It's not the modes. It's the roads.
Mayhem — and, more accurately, the perception of mayhem — on the streets of New York City is provoking a new backlash against delivery workers, many of whom have shifted to illegal gas-powered mopeds to make a living in an exploitive industry on unsafe roads.
As a result, new groups, old pols, and advocacy groups are taking wildly disparate positions — most of which ignore the deeper, systemic problems that are fueling the "Wild West" feel of our city's roadways. Meanwhile, delivery workers are injured and killed in stunning numbers. Between 2020 and 2022, 26 workers were killed on the job, according to the Worker's Justice Project and Los Deliveristas Unidos.
Streetsblog spoke to advocates and elected officials about what's going on and how to fix it for this lengthy, in-depth analysis:
First, what is going on?
Delivery workers have long been exploited and harassed across the five boroughs. But when the state legislature legalized electric bikes in 2020, deliveristas were finally able to do their job without fear of cops seizing their vehicles, which they buy themselves because the billion-dollar tech companies treat them as independent contractors, not employees.
But the expansion of legal e-bikes sparked a new problem: A spate of fires caused by lithium-ion batteries — especially cheaper or refurbished models preferred by underpaid delivery workers. Landlords are banning the devices. The city has been shutting down and fining businesses for improper e-bike charging. And residents in many neighborhoods — even those with huge numbers of deliveries every day — are blocking efforts to create safe charging stations.
Lacking an alternative, many delivery workers are shifting to loud and fast gas-powered mopeds — the vast majority of which are illegal because they are not registered. 
Those mopeds are scary to some, but they're demonstrably less destructive than the most dominant modes of transportation on the roads today: cars and trucks, which remain the biggest danger to pedestrians, cyclists, and indeed other drivers. Between Jan. 1 and Aug. 18, 132 people have been killed in crashes involving cars, trucks, buses, and SUVs, including 54 pedestrians and 14 cyclists, according to city stats compiled by Crash Mapper. The same database showed that just one pedestrian has been killed this year by a motorcycle rider. None has been killed by users of other forms of micro-mobility, the statistics show.
Yet the perception exists: The damn mopeds are to blame for everything that is (and, more accurately, is not) happening on the streets. And that perception misses the point, advocates say. 
"What we're experiencing is an infrastructure deficit that is rearing its head," said Shabazz Stuart, the founder and CEO of Oonee, a secure bike parking company, which also wants to build out safe e-bike charging infrastructure.
Melinda Hanson, whose company Brightside is part of the Equitable Commute Project, said the failure to address real dangers is giving the micro-mobility sector "a really bad name."
"There are not-well-thought-out policies and people are frustrated, for very genuine reasons about their own safety," said Hanson.
The moped problem
In a world that is desperately trying to reduce carbon emissions and congestion, mopeds can be a sustainable, traffic-reducing way of getting around. But there's a problem: So many mopeds are on the street right now without license plates, as is required under state law. Why is this allowed?
Well, for one thing, it's not. The NYPD told Streetsblog that it has seized 7,379 mopeds in the first eight months of this year, more than double the 3,608 in the same period last year.
The NYPD would not have to seize illegal mopeds if they weren't being sold in the first place. But therein lies a systemic disconnect and cross-agency failure.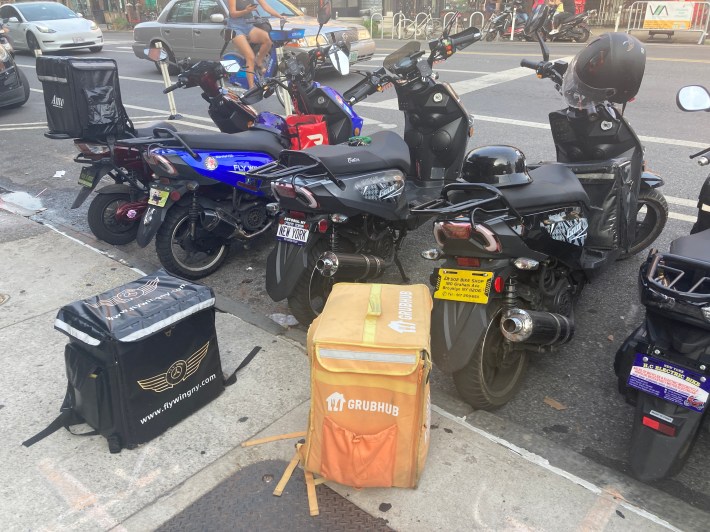 The Department of Motor Vehicles requires that all motorized vehicles — including mopeds, cars, and trucks — be registered before they can legally be driven on public roadways. But the agency said the buyer is responsible for registering the vehicle and getting a license plate for it. Licensed car and moped dealers are not required to register the vehicles when they make a sale, according to a DMV spokesperson, though some do so as a courtesy.
The DMV can impose civil penalties against unregistered dealers — a vast portion of moped dealers are in fact unregistered because their merchandise itself is illegal — and the agency works with law enforcement to conduct investigations against unregistered dealers of both cars and mopeds, according to the spokesperson.
But that enforcement is paltry. Many shops sell illegal mopeds — gas- or electric-powered models — without the necessary 17-character vehicle identification number (VINs), and fool unsuspecting buyers that the device is legal. Others moped shops sell mopeds with proper VINs, but knowingly or unknowingly sell them to people without a driver's license who never register them.
"The biggest problem with the [mopeds] is a lot of people doing deliveries on the street don't have a license," said one shop manager in Sunset Park, who asked to remain anonymous to avoid scrutiny from the authorities. "Sometimes they don't even have IDs. They come here without all the paperwork. But they have to make their living. We deal with them every day."
About two years ago, the NYPD said it would begin targeting the sellers of illegal mopeds. At the time, the NYPD inspected more than 35 businesses and seized 154 non-street legal motorized scooters. A spokesperson for the NYPD said the agency found that illegal mopeds were "being advertised as 'e-bikes,' which they are not." 
But so far this year, police say they have "conducted educational outreach" to just 51 businesses, of which 22 were inspected. Of those, only two were found to be selling "non street legal motorized scooters" and two others were found to be selling mopeds without being licensed to do so, according to the NYPD.
And on the enforcement side, the NYPD is also failing to keep up with the moped influx. According to the NYPD, cops have written 29,306 moving violations to moped and motorcycle riders so far this year — up from 17,016 last year and 13,525 in 2021.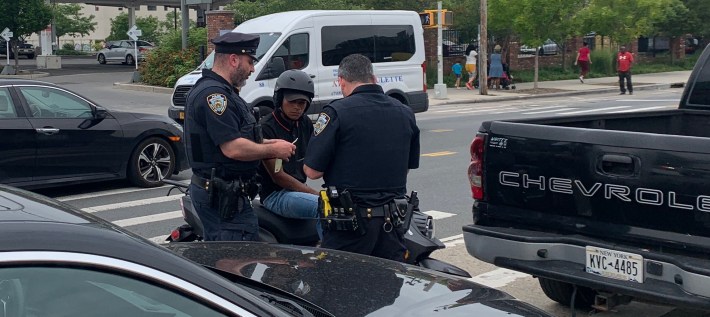 Even with the stepped up enforcement, cops are issuing barely one moving violation to a moped rider per precinct per day. And cops say that so far in 2023, they've issued 910 summonses to motorcycle and moped drivers who were wrongly in a designated bike lane, which is so low as to be statistically insignificant.
The NYPD has long been inconsistent when it comes to enforcing the rules of the road. Cops are writing fewer tickets against car drivers for many serious violations, and often rely on brief ticket blitzes (as it did last weekend) rather than a larger, focused strategy.
The Department of Consumer and Worker Protection said it has no oversight over the sale of illegal mopeds and referred Streetsblog to City Hall. City Hall did not respond to multiple requests for comment. 
Who are the players?
One of the leading safe-streets advocacy groups in the five boroughs has done little but call for the city to "build public charging infrastructure" and for wider bike lanes. 
"The technology has outpaced our government response, and so we need to be designing our streets for more modes," said Elizabeth Adams, deputy executive director for public affairs at Transportation Alternatives, which issued a report in May on building an e-micromobility future. The report didn't address enforcement of unregistered vehicles.
Real changes in infrastructure — such as expanding bike lanes to accommodate micro-mobility of varying speeds — will take decades. For now, the city has focused its effort on battery fires, which, advocates say, is only a small part of the problem.
"There is a set of approaches that need to be taken into account in building this new infrastructure that does not exist at the moment," said Ligia Guallpa, the executive director of the Worker's Justice Project, which organized Los Deliveristas Unidos in 2020. "It's about how the city makes it more accessible and more welcoming for deliveristas to use e-bikes."
From this vacuum of leadership has emerged a new group, the NYC E-Vehicle Safety Alliance, which bills itself as "victims and potential victims … of rogue e-vehicle riders." Group leaders claim to be taking a sensible, proactive approach. 
"We're looking for solutions, we're not looking to penalize anybody, we're looking to change behavior and we're asking elected officials to please consider our goals," said Andrew Fine, a founding member of the Alliance.
But the group's nine-point plan reveals some more punitive goals, such as reclassifying all legal e-bikes as mopeds, ending the pilot program that allows e-bike users to ride on safe routes through city parks, and calling on the NYPD to confiscate all e-vehicles, including e-bikes, if they are ridden on the sidewalk (such bikes could be reclaimed upon paying a $500 fine). The group consistently conflates legal e-bikes with illegal mopeds, an intentional effort to confuse the public into thinking e-bikes are illegal and a threat, critics say. Most safe streets advocates see e-bikes as a crucial component of the city's goal of reducing its dependence on cars.
The group's proposals fail to address the existing danger of cars, and the role that the app companies themselves play in the growing problem, and couches the challenges of lithium-ion batteries as part of its proposition to reclassify all e-bikes as mopeds.
Not only that, the E-VSA contributes to a disturbing racial animus and blatant inaccuracies.
For example, at a recent town hall, Gerard Schriffen, who identified himself as a hearing officer at the Office of Administrative Trials and Hearings, spoke of being run over by a truck driver in Manhattan in 2010 — a crash that required surgery to put a "bunch of rods and nuts and bolts" in his arms and legs, and several weeks in rehab. 
Yet a decade after he was nearly killed by a truck driver, Schriffen's vendetta is against all electric- and gas-powered vehicles.
"I hate to say this, since Black Lives Matter two years ago, I have not seen a cop on the streets of New York City and I'm a native New Yorker," said Schriffen, whose job is to adjudicate civil summonses. He said e-bikes and mopeds have caused "anarchy."
The group has had several well-attended meetings, at which politicians mostly just play to the mob.
"I hear about this every day and I see it. The fact that we got these wild, wild west guys riding everything imaginable on every imaginable kind of vehicle, they are breaking the law," said state Sen. Liz Krueger (D-Upper East Side), who added that she's "totally opposed" to the e-bike pilot program in city parks. "I'll talk to my colleagues about what we'll do."
Of course, it's not just the usual anti-bike suspects who are appalled by the behavior of some moped drivers — and that common enemy points the way to common ground. After a recent crash on the Manhattan Bridge that involved multiple illegal mopeds, many cyclists said that enough is enough.
"It's time to take action," one bike rider posted on Reddit. "Illegal mopeds are not a value add to this city. It's not like a bad apples thing. They are consistently traveling too fast in bike lanes and making unsafe passes. … Report moped shops to 311. It may be time to start disabling illegal mopeds ourselves."
So what are the solutions? 
There is no one fix. But it's clear that safety has to come first.
Riders of illegal devices or even legal mopeds cannot be in bike lanes and cannot use bridge paths, where the combination of fast speeds and narrow paths result in too much conflict and bloodshed — such as the rise in collisions on the Queensboro Bridge and the vicious crash last month on the Manhattan Bridge.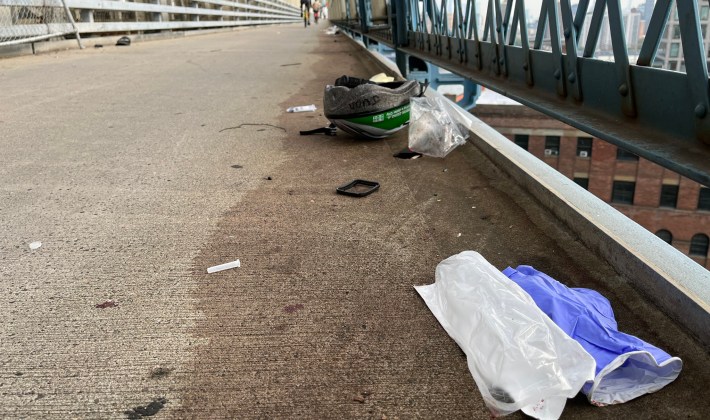 Witnesses told Streetsblog that four or five mopeds and bicyclists were involved in that late night crash. A rep for the Worker's Justice Project confirmed that one of the people involved was a delivery worker, an immigrant from Guatemala, who was riding home after work.
Bike New York Advocacy Director Jon Orcutt said the city should immediately enforce the rules of the road, including on the bridges.
"Illegal mopeds in places they shouldn't be is just a piece of getting real with traffic rules on the streets, which is just a huge blindspot, or maybe a purposeful blindspot by the Adams administration," said Orcutt. "I don't see why you couldn't enforce the rules on the bridges occasionally, just start getting the message out there. The mayor is not talking about it."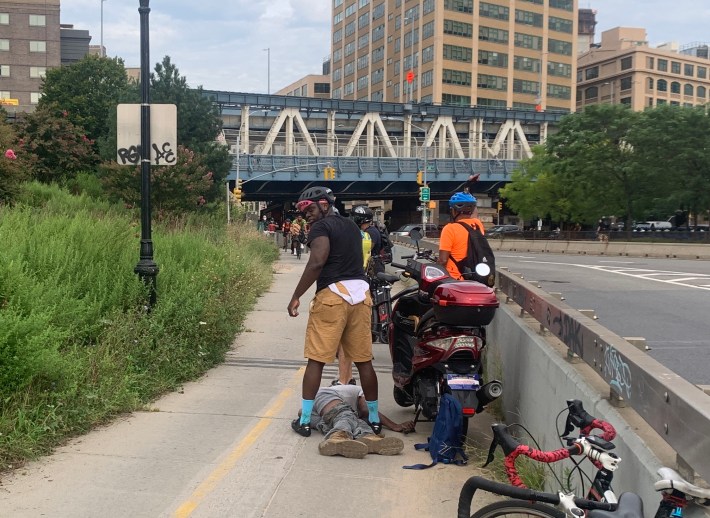 The NYPD does not appear to even be playing a role in issuing warnings to moped users who cross city bridges; two police officers are stationed round-the-clock at the foot of the Brooklyn Bridge, for example, yet Streetsblog watched more than a dozen moped riders fly right past them last week without even a warning.
Several weeks of merely distributing fliers in multiple languages might reduce illegal moped use, advocates said.
Beyond that, a multi-faceted approach is necessary to ensure the safety and well-being of both delivery workers, pedestrians, and other cyclists, on roads that by and large are still dominated by car drivers.
Some pols are willing to think big, but lack the power to act unilaterally.
State Sen. Jessica Ramos (D-Queens) called on the app giants to step up to the plate to provide more for their workers — not just in terms of pay, but also safer infrastructure and equipment. 
"The solution here is for the delivery app companies, Grubhub, Uber Eats, DoorDash, to actually overhaul them," said Ramos, who was instrumental in getting the state to legalize e-bikes back in 2020. "It's not fair that the deliveristas are underpaid, and then on top of that, have to buy their own whatever it is, an e-bike. I don't blame them for making this switch. It's unfortunate that they are put in this position, when they're working for billion-dollar companies." 
The much-demonized delivery workers, whose labor serves many well-to-do customers who place orders for burgers or Chinese food, take home an average of just $7 per hour before tips. And given that tips typically represent the difference between a money-making or money-losing day, it's unfair to only focus on worker behavior, advocates say. The real safety fix will largely come from the companies that employ them. 
"The piece that's missing is to make the employers responsible," Marc Korashan, a field consultant at Long Island University, said to applause during a recent E-VSA meeting, though holding Uber, Grubhub, DoorDash, and Relay accountable is still not a part of the E-VSA agenda. 
And according to Sunset Park Council Member Alexa Aviles, whose district has a high population of delivery workers, and who pushed back against the proposed controversial ban on using or charging electric bikes anywhere on New York City Housing Authority property, said the city "has a long way to go" before its roads are safe for the most vulnerable. 
Recently passed legislation — including prohibiting the sale of uncertified batteries or those not approved by reputable organizations such as Underwriters Laboratory, prohibiting the sale and assembly of second-use lithium-ion batteries, and requiring the FDNY to publish an annual report on all fires caused by powered mobility devices — does not cut it, she said. 
"We must rapidly expand our infrastructure to meet the realities of 21st-century modes of transportation. This includes installations of e-bike charging stations en masse and other resources to support this workforce made precarious by the selfish employment policies of greedy corporations. When workers make starvation wages, they'll do what they need to survive," said Aviles. "Without the city's support in making e-bikes affordable, workers will resort to the cheapest option, and unfortunately in this case, this means burning fossil fuels. It's not enough to mandate the use of high quality batteries. We need to ensure green modes of transportation are accessible to the working class people who rely on them to make a living."
Aviles further called on the companies to "drop their frivolous lawsuit" against the minimum wage for delivery workers, and for the city to enact more robust regulation to make e-bikes cheaper, more reliable, and safer to use.
But as it stands now, the companies all but wash their hands of any responsibility for road safety and battery security, participating only in small-scale programs that provide workers with discounted batteries or e-bikes. DoorDash says its delivery workers are independent contractors and are required to follow the rules of the road regardless of what type of vehicle they're using.
And according to a spokesperson for Uber, those using mopeds are required to upload the proper insurance and driver license documentation. Nonetheless, delivery companies have found that couriers say they're using e-bikes, when in fact they're using mopeds. 
Short of an entire overhaul, there are few proposals on the table, but none address the larger issues. The city Council, for example, is talking about creating a battery "buy back" program that would allow delivery workers to swap faulty, damaged, or second-hand batteries for safe, certified ones. But such a program is mainly aimed at reducing fires and keeping deliveristas using e-bikes rather than mopeds. But it doesn't address road safety.
"The buyback program is a good way to solve the problem of getting the batteries off the streets, but the underlying need of delivery workers is still unmet," said David Hammer, the president and co-founder of Brooklyn-based startup Popwheels, plugging his company's goal of building out a network of battery swapping stations across all five boroughs. 
State Sen. Brad Hoylman-Sigal (D-West Side) wants to require delivery apps to create a universal city-sanctioned device much like the yellow cab. 
"No one can blame the delivery workers for not wanting to charge a dangerous battery in their home, and they shouldn't," said Hoylman-Sigal. "The city needs to work with the industry and propose a prototype vehicle that's safe and can be purchased by delivery app companies that is a standard vehicle much like we have for our yellow cabs."
But that would also be a much longer-term goal. For now, Hoylman-Sigal is focused on his bill to require registration for commercial e-bikes — even though such bikes are legal without licenses currently. And freshman Assembly Member Alex Bores (D-Upper East Side) is focused on enforcement against stores selling illegal products.
"You have stores that know these vehicles are illegal … and they tell people, often immigrants, 'Yeah, this is street legal, take it out,'" said Bores, during last months' E-VSA meeting. "We need to cut off the flow of these vehicles before they get onto these streets."
One obvious solution is a massive reimagining and rebuilding of public roadways to better accommodate the new universe of vehicles that travel at wildly different speeds, with lanes for 10 mile-per-hour bikes, 20 mile-per-hour e-bikes and mopeds, 30 mile-per-hour motorcycle-like mopeds, and faster vehicles in lanes for cars. But that would take years.
"I would advocate for giving dedicated space to those devices before I would advocate for some kind of enforcement crackdown. You can't enforce your way out of a problem you've created," said Carl Mahaney, the director of StreetopiaUWS. "We really need two-tiered bike lanes. One that is comfortable for kids to grandparents, then another for those on a clock. Those two uses really don't mix in a five-foot wide strip of painted asphalt."
Julianne Cuba joined Streetsblog in February, 2019, after three years covering local news and politics at The Brooklyn Paper. There, she also covered the notoriously reckless private carting industry and hit-and-runs. A 2015 graduate of Stony Brook University's School of Journalism Master's Program, she lives in Brooklyn. Julianne is on Twitter at @julcuba. Email Julianne at julianne@streetsblog.org
Read More:
Stay in touch
Sign up for our free newsletter