Cycle of Rage
Cycle of Rage: One Hand Whitewashes the Other on NYPD Plate Defacing
12:01 AM EST on March 9, 2023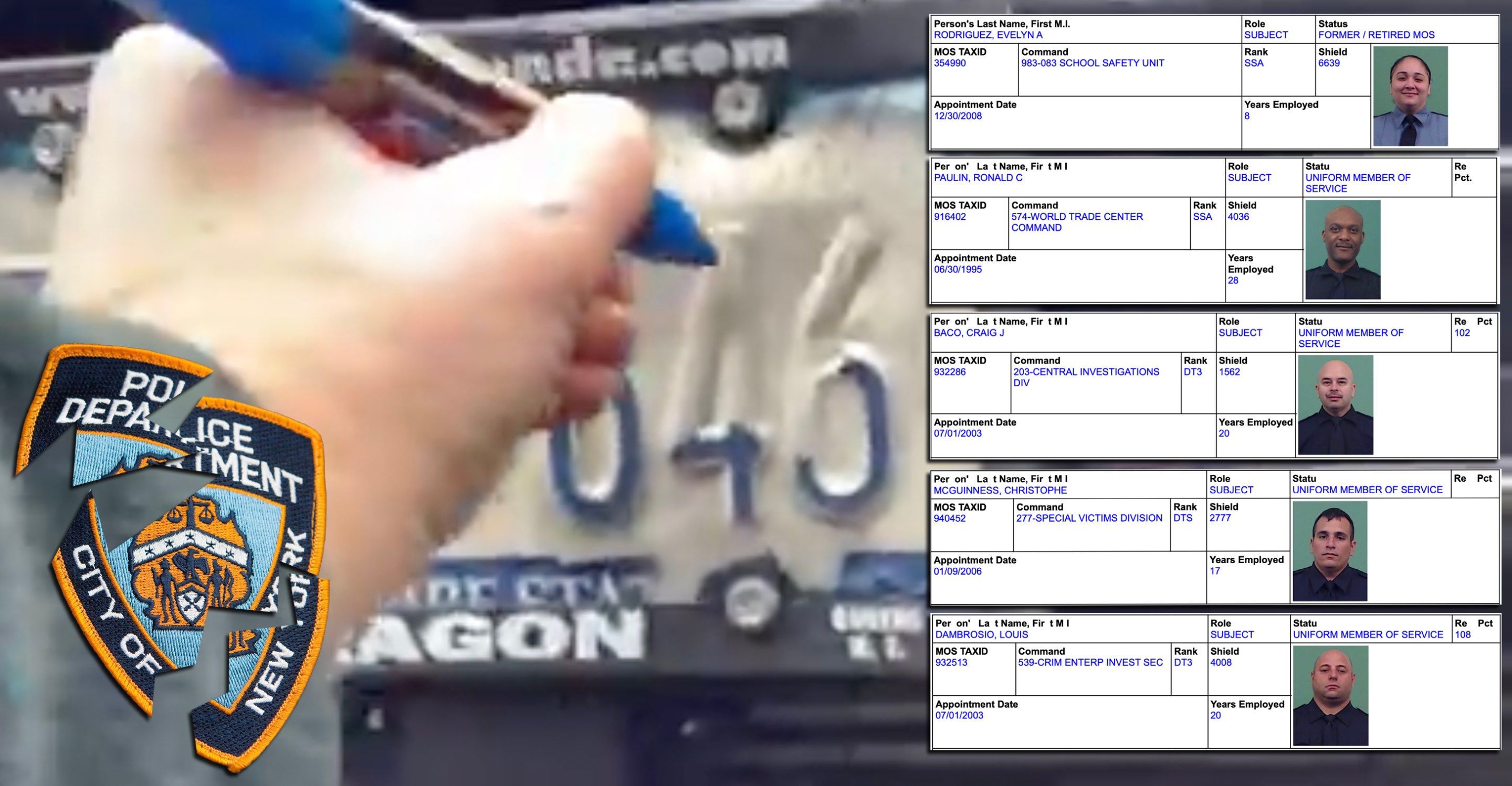 Does the NYPD discipline cops who cover or deface their plates? New evidence suggests no.
As many of you know, I've spent the last four months documenting cops who have rendered their plates unreadable to the city's speed, red-light, and bus-lane violation cameras. In the course of more than 100 videos, I've found plates with opaque plastic coverings, plates with numbers or letters scraped off, and even plates covered with leaves. In many cases, I've removed the coverings, repainted the plates or exfoliated the car, often to humorous affect.
My one-man "criminal mischief" campaign has earned me the kudos of the New York Times, NY1, Gothamist, and even the vaunted New Yorker (whose editor's bathroom I have long maintained I am not fit to clean). But from the NYPD, I'm only getting a sigh of resignation and the classic cop shrug, "Whaddya gonna do?"
I know this because back in January, I asked the NYPD to tell me if it had disciplined 13 cops or NYPD employees whom I caught with unreadable plates in the previous two months. The NYPD declined to provide the info, requiring me to submit a Freedom of Information request, which the agency also denied. So I appealed — and, this time, the agency handed over the information in the form of investigative logs.
Well, some of them, that is. Initially, I received the investigation logs for five cases. But I found out about three more cases from two of the inspectors, who completed their reviews after the NYPD had sent me its logs.
None of the eight cops was disciplined. And only two of my videos led to a "substantiated" finding, which will result in the officers receiving informative letters so that they are encouraged to not do it again. The NYPD declined to provide information on the remaining cases, claiming (implausibly) that those files are "exempt from disclosure [because] disclosure would interfere with an active law enforcement investigation [because] no amount of redaction would be sufficient to protect the integrity of the ongoing investigation."
Sure. Whatever. So for now, let's have a little fun and review the cases we know about, shall we?
Sgt. Ronald Paulin
First, let's start with the allegation I made (Paulin's car is the pristine new Tesla with no front plate or registration):
According to the NYPD, Paulin works for the World Trade Center Command. An investigator interviewed Paulin on Feb. 1, and the sergeant — who earned more than $228,000 last year — claimed he "no longer owns the car in question."
That seems hard to believe, given that the NYPD case log shows Paulin's plate was registered to a 2019 Nissan Altima, not the Tesla. So when the investigator showed up to ask Paulin about his car, he could plausibly say that he no longer owned the 2019 car, and there's no evidence that the investigator followed up and asked him about the Tesla that I caught on camera with the same plate.
Result: Case closed with no action.
Det. Christopher McGuinness
First, let's see what I nabbed Det. Christopher McGuinness for (I actually caught him twice):
McGuinness, a 17-year vet who made $177,773 last year, according to city records and has racked up 30 speeding and red light tickets, is an interesting case. Without doing much legwork, the investigator on this case ruled that McGuinness was not parked illegally and had not misused his 71st Precinct placard, even though I found him parked (twice!) in Lower Manhattan (he had been transferred from the 71 to the Special Victims Division in October 2022, so he did not have a chance to get a new placard yet).
But I never complained about the placard or the parking — I only complained that the D and V on his license plate had been scratched off to render the plate illegible.
"I informed Det. McGuiness that his rear license plate had some peeled paint. However, it was still legible and should it deteriorate further it would need to be replaced," said Lt. Juan Solla in his report.
Result: Case closed with no action.
Det. Craig Baco
Again, let's go to the videotape:
This was one of my favorite cases because Baco, a 20-year vet who works out of 1 Police Plaza and made $179,000 last year, had scraped away the last four digits in his front plate. (It didn't prevent him from getting 16 camera-issued speeding tickets.)
According to the investigator on his case, on Feb. 21, "[Baco] contacted DMV in my presence and he ordered a replacement plate. It will take approximately four to six weeks for new plates to arrive. The subject was unaware of the damage to his front plate until he was inforemed [sic]."
Result: Case was closed by the investigator, who was over-ruled and the case remains open (presumably to see if Baco gets and installs a new front plate). No discipline.
Det. Louis Dambrosio
Let's recall how this detective got in my sights (twice!):
This guy became such a poster child for base NYPD corruption that when a film crew from "Inside Edition" tagged along with me, the tabloid TV show's reporter definitely wanted to see this car, which has been nabbed for scores of speeding and red light tickets. Sure enough, we found exactly in the same place on Baxter Street behind the courthouses of Lower Manhattan.
In both cases, the front and back plates on Dambrosio's Honda were severely defaced and he had placed an NYPD "unmarked vehicle" logbook on the dashboard.
In the first video, I repainted all the digits on both plates — a small favor to Dambrosio, who made $186,695 last year, according to the city. In the second video, I freshened up my paint job, some of which had been scraped away itself.
Once again, the NYPD inspector, Lt. Brittany McCarthy, assumed that I had reported the car for illegal parking or for not having a placard (both of which came back as "unsubstantiated"). McCarthy then ruled that "the paint chipping on the license plate is not enough to determine this plate to be unrecognizable. ... [Dambrosio] was advised to contact the DMV for a new license plate."
Result: No discipline, but the case was not closed (perhaps pending Dambrosio's receipt and installation of the license plates).
Officer Evelyn Rodriguez
This videotape captured lots of perpy cops; Rodriguez's is the car with the Massachusetts plates:
I was hoping for some real discipline here, given that New York City cops are not allowed to live outside of New York State. Except there was one catch: Rodriguez, a social safety officer, retired in 2016. By the time the NYPD got the case, Rodriguez's car was long gone, and couldn't really be traced because she doesn't work for the city anymore (and may indeed live in the Bay State).
The investigator on the case reiterated for the record that it is illegal to park the way that Rodriguez did in the video. But once he determined that Rodriguez had retired, he ordered the case closed citing "no factual data present to take action."
So why did she still have an NYPD placard? That question is neither raised nor answered in the entire 14-page case log.
Result: Case closed.
Officers Michael Cronin & Clinton Philbert
Check out how I found Cronin (with the defaced plate) and Philbert (with the Jeep):
The NYPD did not provide information on these cases in the logs that I had FOIL'd, but investigator Novaidul Neon contacted me to give me a full update.
Cronin, Neon told me by phone, could not possibly be accused of defacing his plate because "his intention was not to get away from tickets." Neon claimed that plates that begin with the letters E or F "have a problem with salt corrosion."
"It was not intentional," Neon told me, not mentioning the 15 speeding and five red-light tickets Cronin has racked up.
He said Cronin promised him that he would replace the plate and, as such, was "exonerated."
In the case of Philbert, who had covered his rear plate with a spare Jeep tire, Neon told me that "the officer went to the mechanic and the plate is visible now." (Good news because Philbert used to get lots of camera-issued tickets, but they suddenly stopped in 2020. Wonder why...)
But in a small measure of success for me, Neon said he did rule that Philbert, who made $114,534 last year, had wrongly covered his plate. "The department will take action," Neon said, declining to say what that action would be beyond saying he would receive a "letter."
It's not the first time Philbert has tangled with the basic rules that are meant to keep cops honest. In 2015, he lost 10 vacation days, according to the NYPD database for taking an unspecified off-duty job without authority to do so.
Result: One case ignored; the other mildly rebuked.
Unidentified cop
Of all the egregious crimes I've caught in my three months of criminal mischief, this was a bit tame:
Still, it was a defaced plate on a cop's car, so I reported it. This particular cop was not included in the NYPD's FOIL response, but Sgt. Carlos Figueroa of the Transit Bureau Investigations Unit emailed me some information about his investigation.
"The plate was for FXW2002 and the violation that was substantiated was for a defaced license plate," he told me. "I hope this helps."
Helps? A little. Figueroa declined to say what, if any, punishment this particular officer would face for having a worn-off front plate. The likely answer? None at all.
What a waste of everyone's time.
Gersh Kuntzman is editor of Streetsblog and periodically writes the Cycle of Rage column. Previous column are archived here.

Gersh Kuntzman is editor in chief of Streetsblog NYC and Streetsblog USA. He also writes the Cycle of Rage column, which is archived here.
Stay in touch
Sign up for our free newsletter