Bus Rapid Transit
On 'Busway,' Would-Be Transportation God Corey Johnson Falls at the First Hurdle
1:31 AM EST on March 8, 2019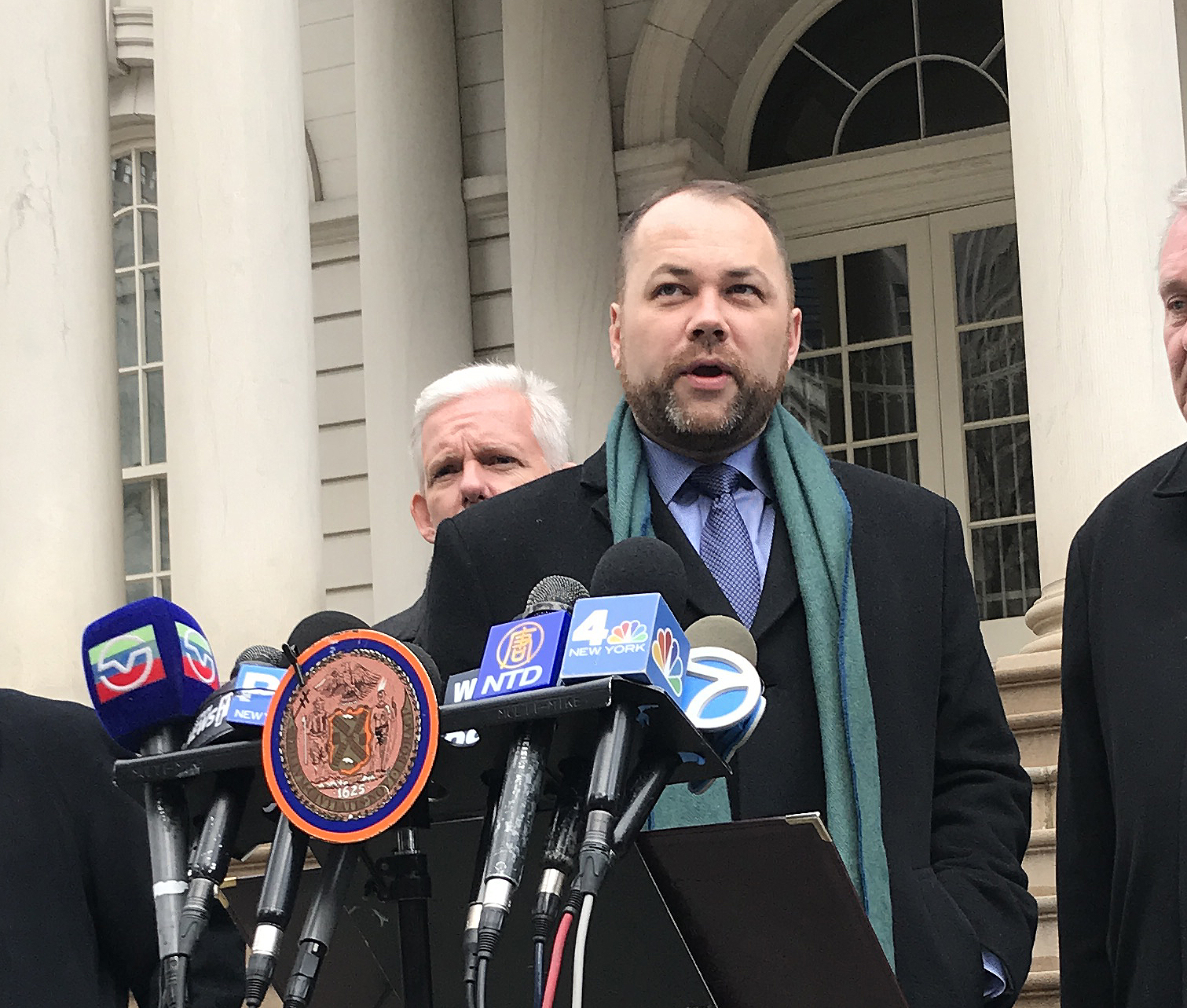 That was fast.
One day after Council Speaker Corey Johnson gave the livable streets speech of his (or pretty much anyone's) life, he ended up in a nasty public brawl with his would-be partners in the activist community — and to a lesser extent at Transportation Alternatives — over his apparent objection to a "busway" plan for a car-free 14th Street during the repairs to the L train.
And he ended up losing.
This saga all started on Tuesday, when Johnson's lengthy State of the City address focused entirely on transportation issues and, as he put it, breaking the car culture. The speech earned widespread kudos among street safety activists for proposals such as municipal control of the subway system, building more protected bike lanes and pedestrian plazas, removing cars from many city streets entirely and for rethinking the current $4-billion plan to renovate rather than rip out the Brooklyn-Queens Expressway.
But the next day, activist Macartney Morris quipped that he didn't believe that Johnson had fully gotten religion on street safety because the Speaker has never forcefully endorsed the bus-only plan for 14th Street, which would provide better transit service for passengers of the M14A and M14D, both of which just received F grades from the Bus Turnaround Coalition.
The tit-for-tat continued for a while, with Johnson taking umbrage and making it a bit personal.
In the end, Johnson claimed he had a "nuanced" position on the busway, and the debate was temporarily tabled.
Enter Streetsblog. Not wanting to see a good argument get spoiled, we asked Johnson this question on Thursday:
Mr. Speaker, as you know, Twitter loves a good fight. But Streetsblog relishes a long debate on the issues, preferably using far more than 280 characters at a time. So, please provide for us your full nuanced position in as many words as you'd like on the 14th busway, which supporters say would dramatically improve crosstown bus service. FULL AND NUANCED ANSWERS WELCOME.
Here was Johnson's answer in full:
The L train debacle is a case study in how badly broken our transit and street planning process is, and we must fix it.

The 14th Street busway concept was originally proposed by Transportation Alternatives and was adopted as a part of the original L train shutdown mitigation plan put forth by the Department of Transportation and the Metropolitan Transportation Authority. Following a comprehensive planning process that included dozens of productive conversations with DOT, the MTA, transportation activists, my colleagues in government and local residents, I supported the busway as well as many other transportation and infrastructure changes put forth to efficiently and safely move the 225,000 riders who rely on the L train every day.

The DOT and MTA came into the community and promised that my constituents would be consulted at the end of the L train shutdown as to what changes would be made permanent. Nobody was under the impression that the proposals would immediately become permanent if the shutdown was cancelled. I don't think it's fair to change the rules of the game at this point, and I look forward to that community process starting again in earnest.

This is an infuriating example of why I'm proposing a Master Plan for city streets. I support breaking the car culture and getting people out of cars and into mass transit in a comprehensive, holistic way, but this has been neither comprehensive nor holistic.

I will continue working with transit safety advocates, the MTA, DOT, my colleagues in government, and my neighbors to figure out how best to move people on 14th Street in a way that promotes mass transit and encourages people to get out of private cars. We should immediately start with Select Bus Service on 14th Street, including camera enforcement and transit signal priority.

The reason I am proposing a Master Plan for our streets is because we must begin having these conversations in a larger citywide context that thinks comprehensively and holistically about the best way to improve our transportation network, especially for bus riders, pedestrians, and cyclists. I look forward to introducing legislation shortly that will require the city to undertake such plan. I am proposing a new framework for the way we have these conversations. I hope all transit advocates will support me in that fight.
Turns out, they support the fight, but didn't think it would be with this particular sparring partner, given his clear lack of support for the first of what he promised would be many innovative, car-free initiatives. Johnson's talk of "process" is not new, but activists like Morris rightly recontextualized Johnson's opposition to the busway after his "Let's Go" speech on Tuesday mapped out an incredibly aggressive agenda for street safety and livability never before presented by a candidate.
Transportation Alternatives had previously criticized Johnson over the busway and declined to go as far as Morris and others in condemning the Speaker. Still, the group issued this statement to Streetsblog on Thursday morning:
The days when transit riders are asked to just accept the bare minimum have to end.  We need new ideas and ambitious street designs that truly allow for the quick and reliable movement of bus riders. Standard SBS designs like we see on 23rd Street and 34th Street consistently receive F ratings for speed and reliability due to constant conflict with other vehicles ? and this is under "normal" circumstances. With L-train service plummeting after 8 p.m., and on the weekends, hoping that a similar treatment will be sufficient on 14th Street just doesn't pass muster. The M14 already travels at an abysmal walking-speed of just 4 mph.

The way out of our decades-in-the-making transit crisis lies in bold thinking and doing the right thing for bus riders, even when it is hard. 30,000+ straphangers are counting on the city to speed up 14th Street bus service, and the only way to make a measurable difference is a busway.
Morris also shared his disappointed at Johnson.
The M14 bus lines are some of the worst-rated in Manhattan. Most times, you can walk faster than the bus moves. But we don't have to wait a day longer to improve these two bus lines used by 28,000 New Yorkers every day. Never in the history of New York City has there been a more shovel-ready solution to the problem of a broken bus line. The paint for the 14th Street busway is literally already on the ground. A major rebalancing of transportation priorities on 14th Street could happen tomorrow — if Speaker Johnson wanted it to happen.

On Twitter, he expressed concern with the substance of the plan and said he was worried congestion would increase on the side streets, unaware of or disregarding decades of traffic engineering evidence from around the world. If his only concern now is that community members were told by MTA and DOT that the 14th Street busway would last only for the length of the L train shutdown, there's an extremely simple solution: implement the busway tomorrow as a pilot project for the length of the project. While the L train is no longer going to be shutdown, it will still be extremely disrupted and service will be vastly diminished on nights and weekends, and an SBS line and frequently blocked bus lane won't cut it. The Speaker could easily insist the previous timeline be honored and work with both agencies to use the 14th Street busway and its benefits as a test run and template for busways throughout the city in the coming years. We don't need to scrap the last three years or start this process all over again; we need to move forward and build on what we've already done. If he believes there should be more rounds of community engagement, let's at least do it after a year and a half of the busway in action, after the two bus lines have dramatically improved.

"I'm in favor of busways, but just not this one and not at this time" is not an acceptable answer for an elected official who wants to be a transit leader. If the Speaker is genuine in his desire to radically improve buses and to break the car culture that is choking this city, it's a no brainer for him to support moving forward with the 14th St busway, regardless of Governor Cuomo's last-minute shenanigans around the L train. Anything less will only empower bus lane foes and car free streets opponents in every borough. Many transit advocates were excited by his transit speech this week. The 14th Street busway gives him the immediate opportunity to back up those words with action. Speaker Johnson has a chance right now to lead on a major transit project within his district and to show the rest of the city how it's done. Twenty-eight-thousand riders of the M14 A/D are waiting and hoping, and millions of other bus line riders around the city are watching.
Story was updated on Friday morning to provide more context.

Gersh Kuntzman is editor in chief of Streetsblog NYC and Streetsblog USA. He also writes the Cycle of Rage column, which is archived here.
Stay in touch
Sign up for our free newsletter