Jeffrey Dinowitz
Q&A With Jeff Dinowitz on NYC's Transit Crisis and What Assembly Dems Are Doing About It
1:21 PM EDT on July 11, 2017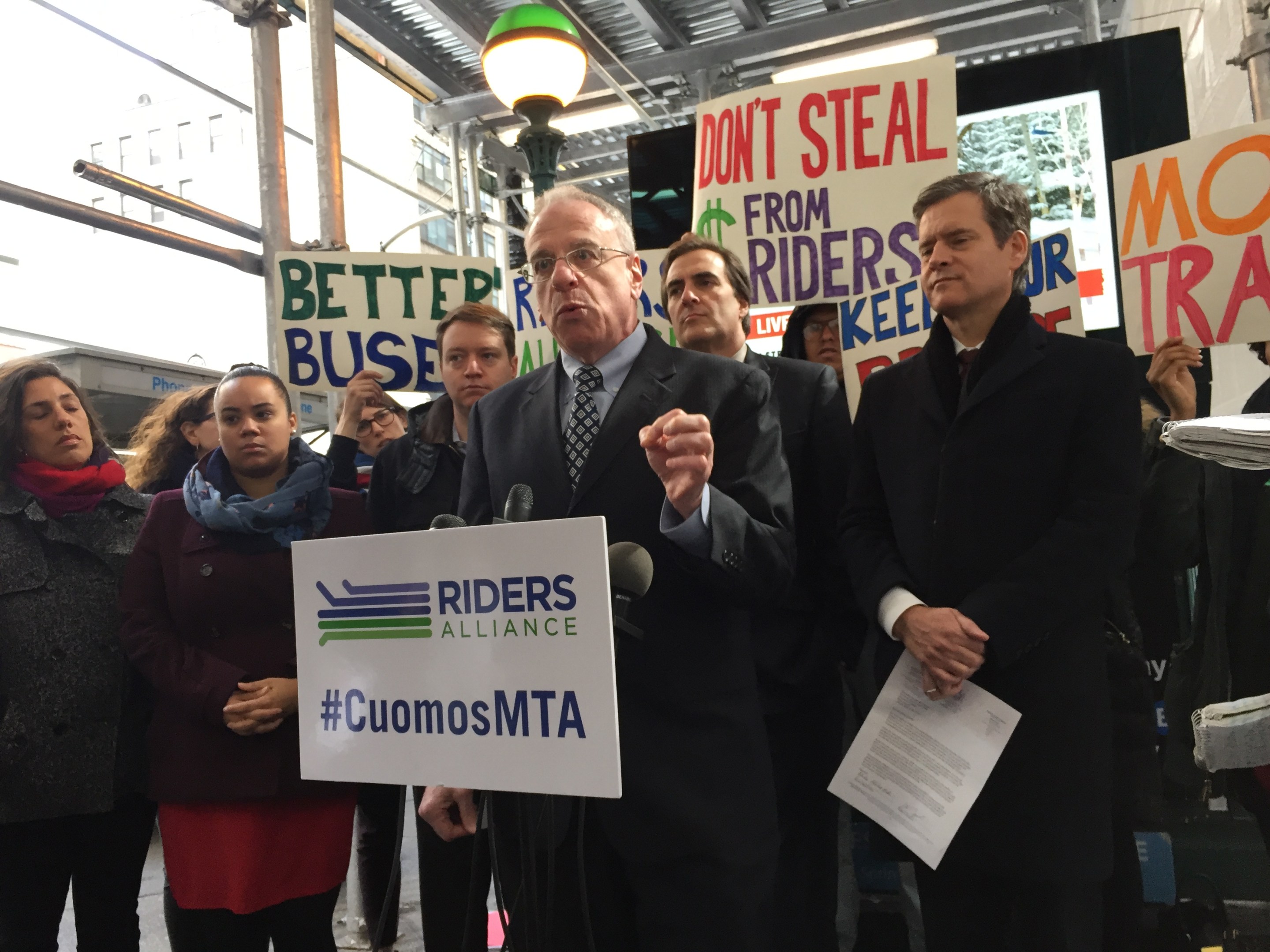 In January, Bronx representative Jeffrey Dinowitz took over as chair of the Assembly Corporations Committee in Albany, which is assigned oversight of the MTA. Since then he's become more visible on matters of transit policy.
In March, Dinowitz organized letters from members of both houses in the legislature opposing Governor Cuomo's $65 million cut to the MTA's operating budget. In May, he and nearly 70 of his colleagues implored the governor to take concrete steps to improve the city's slowest-in-the-nation bus system. He recently introduced a bill that would reserve a share of state income tax revenues for the MTA capital program and the state's roads and bridges.
In terms of exercising his oversight powers, however, Dinowitz has so far kept a low profile. As subway service rapidly deteriorates and buses continue to gradually decline, he has yet to hold a hearing focused on the quality of transit service (he did hold a hearing on Penn Station in May).
Streetsblog recently spoke to Dinowitz to find out what his constituents are telling him about transit service, how he plans to use his oversight role in the Assembly, and what he thinks must be done to turn around bus and subway service. This interview has been edited for clarity and length.
What have you been hearing from your constituents about the meltdown in subway service over the last few months?
Most of the complaints I get about are actually about bus service. I think people who take the trains, they're almost so used to this by now that it's like, what's the point of complaining?
What we see in the media, you would think there was a sudden deterioration of service these past few months, but in fact this has been something that's been happening over a period of time, and is largely due to a long-term lack of investment in infrastructure by the MTA and, frankly, a lack of enough funding by both the state and the city to pay for that infrastructure.
And you're introducing a bill that would address that.
What I'm proposing is, I think, one of a few things we need to consider. My bill, essentially, would earmark some of the already existing money in the state budget for mass transit. I know there are those, including possibly the governor, that [do not] want money restricted like that, but I think that we have to make a decision as a state that, just as we place such a high priority on education, and rightly so, and healthcare, and rightly so, that funding public transit is essential -- it's an essential service for the people and it's essential for our economy.
What the bill does is it earmarks a certain percentage of the personal income tax for the state in increasing stages, such that in a few years it rises to 2 percent. That will not only provide a significant amount of additional money for the MTA, but it will also give them the ability, through bonding, to bring in, literally, billions and billions and billions of dollars a year to tackle these issues.
Ten years ago, you opposed congestion pricing. Are you familiar with the Move New York plan? Is it something you are more open to now?
I am familiar with the Move New York plan. I don't think that is a plan I would see as one of the better ways to fund mass transit because a relatively small group of people would be kicking in for that. I've always said, and I know this sounds pretty simple, but rather than charge a few people a lot of money, I want to charge a lot of people a little bit of money, meaning that whatever we do has to be broad-based. We all have a stake in this, not just a small group of people.
I think the Move New York plan, to me, is less offensive than how I found the [Bloomberg] plan. In terms of tolling the East River bridges, I have two concerns. One is that, while the claim is that they'll lower the tolls on all the other bridges, you can lower the tolls today and double them tomorrow, so that's a hollow promise as far as I'm concerned. But I'm concerned that it'll be very easy to start putting tolls on the Harlem River bridges, and I'm not supportive of that.
Most people won't be kicking in to help support mass transit under that plan. Is the purpose of the plan to diminish traffic, or is it to raise revenue? Those two kind of conflict with each other because the more you diminish traffic, the less revenue it's going to raise anyway. I think what I'm proposing means everybody has skin in the game, everybody has a piece of this.
Tell us your take on the steps Governor Cuomo has recently taken to address the crisis: asking for more seats on the MTA board, hiring Joe Lhota, declaring a "state of emergency," revisiting the capital plan, and asking Lhota to evaluate and possibly change the agency's organizational structure.
I think some of the steps are good, and they are steps, but small steps, to do what we have to get done. I don't know that the structure of the MTA is the problem. I'm not defending the structure, I'm not attacking the structure, I just don't know that that's the problem.
For the governor to say he has to add more seats on the board so he can control the MTA, well, he controls the MTA already. And by saying he needs more seats to control the MTA, it's like saying, "Well, all these problems are not my fault because I don't control the MTA." The governor does control the MTA. He has six appointees to the board, and I can't think of any instances where the governor didn't get his way on that board. To me, adding more seats to the board is nonsense, and is a non-starter as far as I'm concerned.
I think Joe Lhota had a very good reputation when he was on the MTA before. So I have nothing bad to say about him. The one concern I have is that he still has a full-time job elsewhere, so I don't know exactly what kind of role he's going to have given that he has a full-time job. I think that's a problem. If he gave up his job at NYU, that would make a lot more sense to me.
Are you planning to hold an MTA oversight hearing focused on subway service?
We may have hearings later this summer. We're trying to work out what we have to do in terms of scheduling. I mean, I could have a hearing tomorrow on the crisis at the MTA and we're going to get a whole bunch of people, or advocates, saying the same thing, namely, that we need more resources. We're hoping to have hearings at some point, but I don't have something specific scheduled right now.
For me, I think my main goal right now is to create an atmosphere whereby we can come to a consensus that we need to drastically increase funding for the MTA, both on the operational side, but more particularly on the capital side. We have a huge capital plan in place, but we have to implement what we have and we have to go beyond that. We're not going to solve most of the problems tomorrow, but I don't think people want to wait 20 years, either.
It's no secret that the MTA has a cost-control problem. Is that something that concerns you? What can the Assembly do to shed light on that issue?
Every big project in New York, and probably anywhere, seems to cost more than it should. In project after project, everything seems to go way up. Today, if you read the New York Times, the cost of the proposal to build a tunnel across the Hudson River, has also gone up by billions of dollars -- before anything has been done or even agreed upon. Perhaps better oversight can help prevent some of that, but I think that's almost like a fact of life, and that's terrible.
I want to ask you more about buses. As you know, transit advocates have been calling for a year for a package of improvements that could dramatically improve bus service in the city. What role do you envision the Assembly playing in addressing the issue?
Well, I think, number one, advocacy. Last night we had a meeting in my district with the Bus Turnaround campaign and the Riders Alliance. I sent a letter to the governor with at least 50 of my colleagues in the Assembly supporting some of their proposals. The more pressure we bring, and the more we talk about these things, the more likely we are to get the MTA to support some of these things.
A lot of the bus routes need to be reexamined. For example, there's one bus in my district which I get by far the most complaints about, the Bx10 bus. I think one of the many problems it has is it's too long -- maybe it needs to be divided in half. Bus bunching becomes more likely on a longer route, I would think. So there's actually a lot of different things that could be done without extraordinary costs.
Would you hold an oversight hearing on buses?
I may very well, but I think I know the answers already. Because what I've done, and I'm not saying I'm not going to hold a hearing, but what I'm saying is I've been in touch with the Riders Alliance, I've met with them on several occasions, and with other advocates and with individuals. So I kind of think I know what has to be done.
You know, having a hearing serves very useful purposes, but I'm not sure there would be anything new coming out. My goal is not to have hearings simply because I want to get a camera there or something. I want to get things done.
The MTA is by far the largest transit provider in the United States. It's also the way most of the Assembly majority's constituents get around. Yet we've heard remarkably little from the Assembly majority about transit and NYC subways in particular. Speaker Heastie said explicitly that he wasn't interested in spending the summer talking about the subways. Why is that? Are Assembly Democrats afraid of retaliation from the governor?
I don't think the premise of your question is correct. I think a lot of Assembly Democrats are talking about these issues.
Based on the questions you've asked me so far that you seem to be particularly interested in hearings. I mean, I could have a hearing a week on a different subject. I could have a hearing on the bus service, a hearing on handicap accessibility, a hearing on the structure, a hearing on the oversight. We could do all of that stuff, and we may very well do some of that stuff. I'm not holding a hearing a week during the summer, just so you know. Now that the session is finally over, we are discussing with staffs what potential hearings we could may over the next few months.
I think members are very interested in accomplishing some of these goals. I don't think that it automatically means confrontation with the governor. The governor, to his credit, did last week come up with, or claim he's going to come up with, a significant amount of additional money.
I may not agree with the governor on everything he's doing. He may not agree that we should have the money earmarked, but when he does something that is good, I'm going to certainly be supportive of that. If he finds an extra billion dollars, I say that's great. Good going, governor. If he's trying to stack the MTA board, I say I don't think that's going to help any, so I'm not going to support that. I think the Assembly Democrats, more than any of the other legislative conferences, are supportive of mass transit, because they have a lot of public transit constituencies in their districts.

David was Streetsblog's do-it-all New York City beat reporter from 2015 to 2019. He returned as deputy editor in 2023 after a three-year stint at the New York Post.
Read More:
Stay in touch
Sign up for our free newsletter