Buses
Bus Lane Foes Lancman and Simanowitz: Car Dependence Is a Fact of Life
4:47 PM EST on January 23, 2015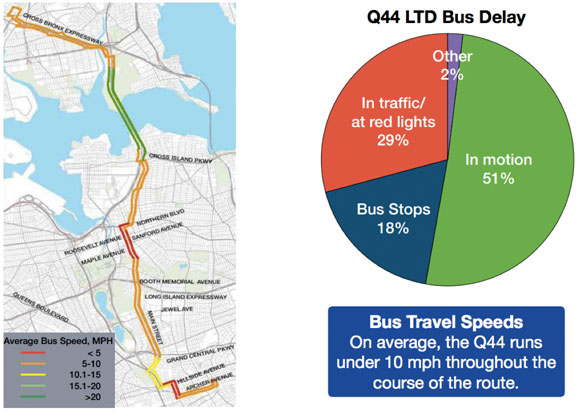 What happens when you hold a meeting about better bus service but bus riders don't show up?
Residents of Kew Gardens Hills packed an open house last night in a near-panic about the carmageddon they fear if bus lanes are installed on Main Street in their neighborhood. While the crowd last night was big and boisterous, very few regular bus riders turned up. Residents of other neighborhoods along the route who would benefit most from bus lanes -- a key component of Select Bus Service plans -- were also scarce last night.
In the absence of a pro-transit constituency, City Council Member Rory Lancman and Assembly Member Michael Simanowitz fed the crowd's perception that giving more street space to buses would cause a traffic disaster. The SBS supporters who did attend said transit riders should get a chance to weigh in before decisions get made. However, Transportation Commissioner Polly Trottenberg, who was in attendance, seemed prepared to back off bus lane plans for the neighborhood already.
DOT has been mulling Select Bus Service between Flushing and Jamaica for routes on Main Street, Kissena Boulevard, Parsons Boulevard, and 164th Street. Last night, the agency narrowed its focus to the Q44, which carries 28,700 riders each day. The route travels between Jamaica and the Bronx Zoo, following Main Street through Flushing.
The project will upgrade limited-stop Q44 service to a full SBS route, including off-board fare payment, traffic signals that hold a green light for buses, and pedestrian safety upgrades at key intersections, all of which were well-received at last night's meeting [PDF].
DOT has already added bus lanes to some streets in downtown Jamaica and is bringing centralized control of traffic signals to downtown Flushing. While DOT has not laid out where it would add new bus lanes, the specter of dedicating street space to transit was too much for some Kew Gardens Hills residents to bear. "It's a disaster," said Community Board 8 transportation committee member Carolann Foley. "You lose a whole lane going down Main Street, so the traffic is going to be crazy."
DOT and the MTA have now added bus lanes to more than half a dozen major streets for SBS routes. Nowhere has carmaggedon ensued. On Webster Avenue in the Bronx, for instance, general traffic moves just as fast as it did before, but now the tens of thousands of people who ride buses every day get where they're going faster.
Lancman and Simanowitz, however, view traffic as an unstoppable force of nature. "The bus ridership in the neighborhoods that I represent is not very significant," said Lancman, who has helped lead the bus lane opposition with Simanowitz and local civic associations. "In my district, better bus service is not going to make up for people losing parking spaces... People are not going to suddenly get on a bus and shop on Main Street and lug their groceries home."
"There are a lot of cars, and there are going to be more cars," Simanowitz said. "We're not going to get cars off the street just by putting in an express bus lane. It's a fact of life. The cars are here."
"We do not support anything that is going to eliminate a lane of traffic or parking," Lancman said, adding that he doesn't ride the bus very often. (Simanowitz said he occasionally takes a bus, most recently last week.)
Other local electeds, including Assembly Member Nily Rozic, have urged the city to think boldly about bus improvements for Eastern Queens, and not all of the commentary last night was so obstructionist.
Michael Herstein lives in Kew Gardens Hills and sometimes rides the Q44 to his job in the Bronx. He said the buses don't get stuck in traffic in his neighborhood but do slow down through downtown Flushing, which is where the city should focus on putting bus lanes. "Put the solutions where it's going to help," he said.
Sheldon Goodridge, who lives in Queensboro Hill, was one of the few daily bus riders to attend last night's meeting, which he heard about after signing a Riders Alliance petition for better bus service. He supported dedicated bus lanes on all of Main Street and was surprised to find such strong opposition at last night's meeting. "What I saw was a lopsided cabal," he said. "The folks that this would affect, like myself and others, who do use the bus on a regular basis, their voices are not here to be heard. So I'm hoping there's a follow-up to this."
"I was concerned about the composition of the crowd today, because I feel like we do have an unbalanced amount of people who may be more concerned about preserving their driving privileges than the larger public policy issue of helping people actually commute and get to work," said John Choe, executive director of the Greater Flushing Chamber of Commerce. "I'm optimistic that in future forums we'll be able to have more of a balanced perspective and have more participation by the people who are actually being served by this type of bus route."
While DOT Director of Transit Development Eric Beaton said the agency will be doing additional outreach to communities in Flushing and Jamaica, Transportation Commissioner Polly Trottenberg indicated that last night's event has already influenced her thinking about the project, at least in areas near Kew Gardens Hills.
"We're going to need to go back and take a look at, obviously, what we're thinking," she said. "We have to have a project here that's not going to meet with such vicious opposition that we can't get it off the ground."
The de Blasio administration has promised 13 new Select Bus Service routes in four years. Since taking office more than a year ago, it has cut the ribbon on just one route. In addition to the Q44, SBS routes are in development for Woodhaven Boulevard in Queens and Utica Avenue in Brooklyn. A planned SBS upgrade for the M86 will not include bus lanes.
Update (January 30, 2015): DOT says Select Bus Service could launch on the Q44 no earlier than fall 2015. The Q25, which runs on Kissena Boulevard, has also been identified as a candidate for SBS at a later date.
In spring 2017, Stephen wrote for Streetsblog USA, covering the livable streets movement and transportation policy developments around the nation. From August 2012 to October 2015, he was a reporter for Streetsblog NYC, covering livable streets and transportation issues in the city and the region. After joining Streetsblog, he covered the tail end of the Bloomberg administration and the launch of Citi Bike. Since then, he covered mayoral elections, the de Blasio administration's ongoing Vision Zero campaign, and New York City's ever-evolving street safety and livable streets movements.
Stay in touch
Sign up for our free newsletter