Brooklyn
How One Merchant Group Went From Bus Lane Opponent to SBS Supporter
3:02 PM EST on December 12, 2013
When B44 Select Bus Service launched last month, regular Streetsblog readers may have recognized Lindiwe Kamau's along with the elected officials celebrating Brooklyn's first SBS route. Kamau, who is president of the Nostrand Avenue Merchants Association, spoke with Mayor Bloomberg at the grand opening and had her photo snapped by the press. Under sunny skies, it was all smiles as passengers boarded the new buses.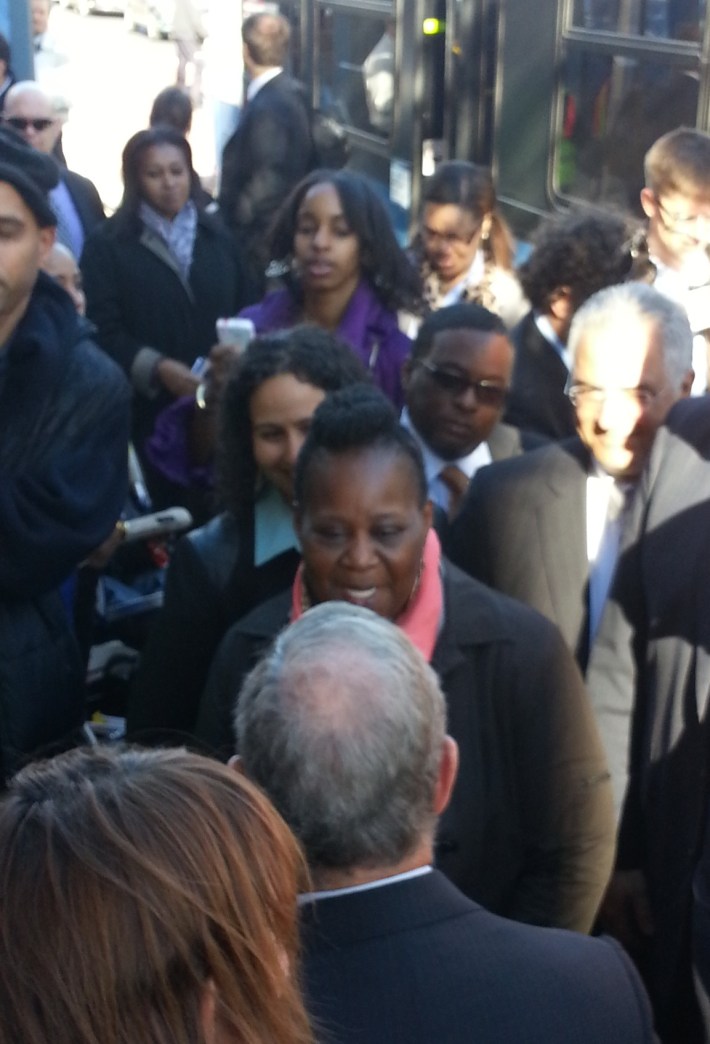 "We hope that it's going to bring us some more customers, since it's going to bring more accessibility," she told Streetsblog earlier that morning. Her group was working with local merchants -- there are approximately 300 in the area the association covers, from Linden Boulevard to Eastern Parkway -- offering discounts to SBS riders.
Kamau didn't always have such a positive view of SBS. Just four years ago, she was leading the charge against it. The story of how she came around to support the project has lessons for the rest of the city, especially in light of Bill de Blasio's campaign pledge to create a Bus Rapid Transit network of more than 20 lines.
In November 2009, days before the general election, Kamau organized a campaign stop with a who's-who of candidates -- including Bill Thompson, Tish James and Bill de Blasio -- to rally against the SBS plan. At the event, Nostrand Avenue merchants were outnumbered by reporters, who were themselves dwarfed by the size of the nearby crowd waiting for the B44. The route clocked in last year as the city's fifth-busiest bus line and was named by the Straphangers Campaign as the city's least reliable bus in 2009. But at the time, the poor quality of bus service didn't factor into Kamau's opinion of SBS so much as the potential reduction in curbside parking.
At that point, the only SBS route in the city was along Fordham Road in the Bronx. Along a section of that route, curbside bus lanes replaced on-street parking, upsetting some local business owners. Although the Fordham Road route launched just as the recession hit, merchants blamed the bus lanes for struggling sales. One deli owner told the Daily News that because his customers had trouble parking to run in and buy a sandwich, his sales had fallen 40 percent.
The reality is that most New York City stores don't rely on customers who drive and shop. Along Fordham Road, only eight percent of people surveyed on the street arrived by private car, while 91 percent got there by walking or riding transit. In the two State Senate districts surrounding the Nostrand Avenue Merchants Association coverage area, approximately two-thirds of households are car-free.
But the data often does not match up with what merchants think. Business owners tend to overestimate the percentage of their customers who drive, in part because they are more likely to drive to their own stores. "A lot of the merchants themselves do not actually reside here," Kamau said. "They come from the outside. They come from Long Island, from Queens. Of course they drive."
Many of the merchants also serve an immigrant population that, while concentrated nearby in central Brooklyn, includes people from across the region who come to Nostrand Avenue for goods they cannot buy elsewhere. "This corridor, because of its Caribbean background, tends to depend a lot on outside traffic," Kamau said. "Not necessarily bus traffic."
So when Kamau and the other merchants first heard that SBS was planned for Nostrand Avenue, the only thing they had to go on were reports coming out of the Bronx. "We thought it would follow that model where the curbside parking would be totally eliminated," Kamau said. She contacted politicians and organized the rally to galvanize her members in the face of what many of the merchants, hearing stories from Fordham Road, considered a serious threat. Despite the alarm, Kamau was disappointed with the low turnout from association members at the protest, many of whom are already stretched thin with commitments.
Soon after the rally, Kamau figured out that she was fighting a phantom problem. "We took a field trip to Fordham Road," she said. "Their situation was a little different from ours." After meeting with Council Member Tish James, who connected the Nostrand merchants with the Pratt Center for Community Development, Kamau learned that DOT and the MTA were proposing an offset bus lane, which would preserve most of the parking along the street.
Another thing she learned from James was that the project was not likely to be stopped. "She at some point determined that the money was there and there was nothing that could be done about it," Kamau said. At that point, the merchants association decided to work with the transit planners, rather than against them. "We're going to embrace it and make the best out of it," she said.
"They were very concerned about parking, and from the very beginning indicated that it was a priority," said Elena Conte, senior organizer for planning and policy at the Pratt Center. "In any commercial area, by now DOT has learned that there's a desire to preserve curbside parking."
The merchants association and DOT co-sponsored a door-to-door survey of store owners to get a better understanding of their loading zone needs. In addition to gathering data for the project, the survey also provided an opportunity to talk with merchants one-on-one about their concerns. "We spent a lot of hours dealing with the transportation issue and speaking with the Department of Transportation and the MTA...I think that might have changed the perception [of merchants]," Kamau said. Although opposition softened, not all shop owners were fully on board. "You still have merchants who are adamant," she said.
Although the project did remove some parking on Nostrand, Kamau said she hopes her organization's work will ensure the project will be a net benefit for local businesses. "They're looking for business either way [customers arrive]," she said. "We're trying to support them and turn the situation into a plus for them."
That effort has continued since Select Bus Service began operations last month: DOT and the MTA have signed on as promotional partners for the discount program association members are running for SBS riders during the holiday shopping season.
Conte said that effective community outreach, while it might require a big upfront commitment, actually speeds up projects in the long run, since potential partners do not turn into enemies that can gain enough clout to stop the project. "You go slow, and you go fast," Conte said, "If you enlist the right partners and you do your outreach earlier."
"It's a really time-intensive thing to do the job of representation and get the word out," Conte said. "In neighborhoods that are less well-organized, the effort to engage people has to be greater." Conte noted that it can be difficult to get the public to turn out for meetings. "That's why community-based organizations have a critical role to play," she said, using the merchant association's door-to-door survey as an example.
Joan Byron from the Pratt Center will be on a panel at a Rockefeller Foundation event on December 17 in part to lay out a blueprint for the next generation of Bus Rapid Transit in New York City. "SBS is BRT lite, and that's been great," Conte said. Instead of simply implementing more SBS routes, the Pratt Center is advocating for fully separated busways with more robust stations. "I'm all for community consultation," Conte said. "I hope that it's not code language for, 'We're not going to be bold.'"
In spring 2017, Stephen wrote for Streetsblog USA, covering the livable streets movement and transportation policy developments around the nation. From August 2012 to October 2015, he was a reporter for Streetsblog NYC, covering livable streets and transportation issues in the city and the region. After joining Streetsblog, he covered the tail end of the Bloomberg administration and the launch of Citi Bike. Since then, he covered mayoral elections, the de Blasio administration's ongoing Vision Zero campaign, and New York City's ever-evolving street safety and livable streets movements.
Stay in touch
Sign up for our free newsletter