Bicycling
In Anti-Bike Lane Case, Gibson Dunn Strays From Pro Bono Standards
2:47 PM EST on February 24, 2011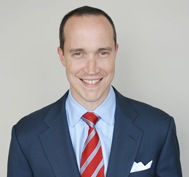 Jim Walden is a partner at Gibson, Dunn & Crutcher, the kind of white shoe firm where lawyers represent major corporations at rates of nearly a thousand dollars per hour. His name has been popping up on Streetsblog recently because he represents a politically-connected group attempting to undo the redesign of Prospect Park West. According to press accounts, Walden is doing this work at no charge to the client. Walden would not comment to Streetsblog for this story.
Under the ethical standards of the legal profession, lawyers are expected to donate a certain amount of their time pro bono publico, for the good of the public, and some of Walden's pro bono representations are quite impressive. In 2007, he received Gibson Dunn's top award for exemplary pro bono work for representing 11,000 New Yorkers whose food stamps had been wrongfully terminated. Last June, Walden won a pro bono case in front of the United States Supreme Court preventing a legal resident from being deported for a minor drug offense.
Walden's newest pro bono case, however, doesn't rise to the standard he's set in the past. In representing a group of Brooklyn residents fighting against the traffic-calming Prospect Park West street redesign, Walden is devoting his pro bono time to the affluent and politically connected, not those in need.
The New York City Bar Association's statement of pro bono principles, which Gibson Dunn has signed on to, defines pro bono work as legal services provided without fee to:
"persons of limited means,
charitable, religious, civic, cultural, community, governmental and educational organizations committed to serving the needs of persons of limited means and/or in matters which are designed primarily to address the needs of persons of limited means,
individuals, groups or organizations seeking to secure or protect civil rights, civil liberties or public rights,
individuals, groups or organizations who have been harmed by a natural disaster or public emergency or who are providing assistance to persons harmed by a natural disaster or public emergency, and
charitable, religious, civic, cultural, community, governmental and educational organizations in matters in furtherance of their organizational purposes, where the payment of legal fees would significantly deplete the organization's economic resources."
Esther Lardent, the president of the Pro Bono Institute, wouldn't comment on the particulars of a specific case, but did share some general principles about pro bono work. "If this is something that could be handled on a contingency basis in the marketplace," explained Lardent, "that would be unlikely to be something that could happen on a pro bono basis." If the clients can afford to pay, in other words, it's not likely to merit pro bono services.
The Pro Bono Institute is a non-profit organization that helps support pro bono work; Gibson Dunn has signed on to the institute's Law Firm Pro Bono Challenge. "In recognition of the special needs of the poor for legal services, we believe that our firm's pro bono activities should be particularly focused on providing access to the justice system for persons otherwise unable to afford it," reads one section of that challenge.
The pro bono coordinator of another major law firm, who asked to remain anonymous in order to protect the firm, told Streetsblog that while different firms have different approaches to pro bono work, "We try to focus all of our pro bono on helping the poor, or helping institutions that help the poor, or advancing rights."
It's hard to call the leaders of the anti-bike lane group either poor or powerless. The group's leading spokespeople are Norman Steisel, a former deputy mayor, and Louise Hainline, a dean at Brooklyn College. They have published letters in print and online media alongside Iris Weinshall, a former DOT commissioner and the wife of Senator Chuck Schumer.
The group's membership form [PDF], which solicits donations to help pay for "incidental costs of our litigation expenses," instructs donors to send their non-tax deductible contributions to 9 Prospect Park West, PHA -- the penthouse apartment in one of the most exclusive addresses in Brooklyn.
A co-op apartment in 9 Prospect Park West recently sold for $3.2 million dollars, with $3600 per month in maintenance fees. The penthouse apartment, one can safely assume, must command a higher price than that. To repeat: According to its membership form, the group receiving free legal services from Jim Walden and Gibson, Dunn, and Crutcher is headquartered in an apartment likely worth several million dollars.
While the ability of the client to get legal help on their own is an important consideration in pro bono work, it isn't the only one. Lardent gave the example of the pro bono work many law firms provided to members of Congress in the Citizens United campaign finance case. While those clients weren't low-income or without power, explained Lardent, the case wasn't really about the particular client. If a case "would benefit the legal system as a whole, benefit access to justice," said Lardent, "we're very likely to say that's an appropriate pro bono representation."
Even if you believed that helping politically-connected insiders overturn a multi-year public process was an issue of access to justice, in such cases you also have to apply a higher level of scrutiny. "Is this a loss leader or a business development strategy?" asked Lardent. "How did the firm take this case on? What was its motivation?" If a case came in through an established pro bono committee and received a vote of support from that committee, she said, that's very different than if a case reached the firm through its commercial work. "You want to make sure this wasn't in some way a client accommodation." You also need to be sure it isn't a personal favor for either clients or the firm's attorneys, she explained.
One inappropriate use of pro bono that firms are presented with all the time, explained the coordinator at the other law firm, would be supporting an elite private school that a lawyer's child attends. Although such a school could qualify under a loose reading of the pro bono guidelines, "it doesn't really fit into our reading of the Pro Bono Institute definition." Those cases don't make it through the firm's pro bono committee.
While it isn't clear what process Gibson Dunn went through in taking on this case pro bono (we have tried to contact their New York office, their pro bono coordinator, their press office, and Jim Walden), the details that have emerged suggest that it may not meet the standards that Lardent set out.
It has been reported, for example, that the bike lane opponents were put in touch with Walden by Randy Mastro, a deputy mayor under Rudy Giuliani and a current partner at Gibson Dunn. Walden's connections to Senator Chuck Schumer raise additional ethical questions for the case. Walden made the maximum contribution to Schumer's 2010 re-election campaign and was almost Schumer's pick to be U.S. attorney in 2009. Schumer has reportedly lobbied City Council members against the bike lane and is married to Weinshall.
William Simon, the Everett B. Birch Professor in Professional Responsibility at Columbia Law School, explained that most pro bono guidelines include an escape clause broad enough to cover Gibson Dunn's decision to take this case on a pro bono basis. "You're going to find a catch-all in most of the promulgated definitions" of pro bono, he said. But, he noted, "If I were in a firm, I'd certainly push for a definition of pro bono that focused on relatively disadvantaged people who really need the assistance." If the point of pro bono work for most law firms is primarily to boost their reputations, he said, taking on this particular case "may undermine some of the reputational advantages they're going to get."
To Simon's point, Gibson Dunn's own pro bono page states proudly, "Whether protecting constitutional rights, working to preserve historic buildings, battling slumlords, protecting the environment, or facilitating adoptions and guardianships, our attorneys have provided access to justice for those who could not otherwise afford it."
Fighting a bike lane that is making the street safer and preventing injuries probably won't be one of Gibson Dunn's featured pro bono suits any time soon.
Ben Fried contributed reporting to this post.
Clarification: The post has been updated to clarify that Esther Lardent of the Pro Bono Institute was not commenting or rendering judgment about this specific case. After publishing, we received an email from the Pro Bono Institute stating that "the article leaves the inaccurate impression that Lardent's words apply specifically to the case that is the focus of the story, when in fact her explanation of pro bono was a general one and wholly divorced from the case in question." This was not Streetsblog's intent, and we have amended the post to explicitly reflect that Lardent was referring to "general principles about pro bono work."
Noah joined Streetsblog as a New York City reporter at the start of 2010. When he was a kid, he collected subway paraphernalia in a Vignelli-map shoebox. Before coming to Streetsblog, he blogged at TheCityFix DC and worked as a field organizer for the Obama campaign in Toledo, Ohio. Noah graduated from Yale University, where he wrote his senior thesis on the class politics of transportation reform in New York City. He lives in Morningside Heights.
Stay in touch
Sign up for our free newsletter