City Council
After NYPD Kills Bill, Council Pushes for Traffic Safety Data From DOT
11:10 AM EDT on November 5, 2010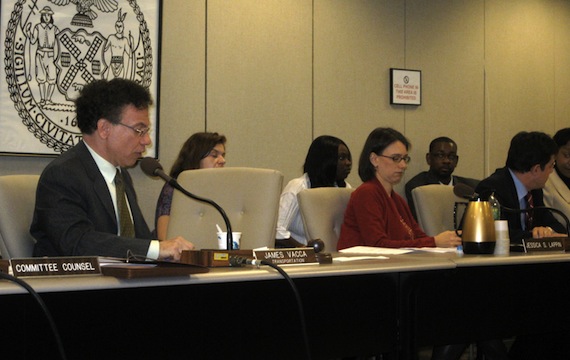 The City Council Transportation Committee held a hearing yesterday on four bills that would release new information about traffic crashes and how the Department of Transportation decides whether to install traffic calming measures and traffic control devices like stop lights and stop signs. All together, the bills would cover a wide spectrum of information, but committee chair Jimmy Vacca said the goal of each is "empowering citizens who want to fight for traffic calming measures in their own community." The measures drew opposition from DOT representatives, however, who seemed to bristle at the prospect of Council-imposed mandates even while pledging support for the intent of the bills.
The first two bills, Jessica Lappin's Intro 370 and Rosie Mendez's Intro 374, would both open up data about traffic crashes to the public. Intro 370, an amended version of Lappin's "Saving Lives Through Better Information Bill," would require DOT to publish on its website weekly information about all traffic crashes and traffic fatalities in the city, searchable by intersection. Intro 370 would also mandate the creation of an interagency traffic safety plan, developed and implemented jointly by all the relevant city departments.
Lappin's original bill would have placed the responsibility for publishing crash data on the NYPD. The police came out against that bill and effectively killed it earlier this year, even though a former NYPD traffic chief said the agency could have easily complied. During today's hearing, Lappin said that she amended the bill "based on feedback we've received from the Administration."
Intro 374 would fill a big hole in the city's crash data, requiring DOT to gather information on all bike crashes that get reported to the city. Currently, no data are reported about collisions between cyclists and pedestrians or other cyclists.
These bills each got a lot of support from the committee and those testifying. "Think about it," said Transportation Alternatives Executive Director Paul Steely White, explaining the need for Intro 370. "Right now, community groups and elected officials like yourselves are often forced to make decisions that directly affect life and death, based on information from 2008, at best." White also said he believed it would be more appropriate for the NYPD to be in charge of releasing crash information, as that department already collects and compiles it.
Speaking for Manhattan Borough President Scott Stringer, Mark Brumer praised Intro 374. Though Stringer's office recently released its own study showing what happens in his borough's bike lanes, that wasn't a scientific survey. "A lack of reliable data on a citywide level prohibits an empirical approach to making bike lane improvements or increasing law enforcement in bike lanes," said Brumer. "This dearth of information puts the safety and wellbeing of cyclists and pedestrians at risk."
DOT, however, argued that releasing crash data is not its turf, preferring instead to pass the buck back to the police department, which collects the data. "If you're talking about the police department data," said DOT Deputy Commissioner of External Affairs David Woloch, "that's a question for them."
Woloch said at first that releasing weekly information would be "something that we couldn't do." "We don't have state data from this past year," he said. Lappin, noticing that Woloch had switched from talking about the more frequently-updated NYPD information to the more robust but less timely information from the state DMV, asked how often they could get the NYPD information. At least monthly, admitted Woloch.
After a long line of questioning, Council Member Dan Garodnick forced Woloch to admit that they "have access" to all the NYPD data in question. "You're describing it as your data, their data," said Garodnick. "This data is not really proprietary. We don't care who's disclosing the data, but the data's important."
Gale Brewer added that 374 would actually help DOT with the goal of increasing cycling. "I'm the biggest bicycle advocate you can imagine," she said. But she's "barraged" by complaints about dangerous cycling, she said, and she feels unequipped to defend cyclists. "If you put this online, when we get complaints that DOT and the police do nothing, we can help you," said Brewer. "We don't have a lot to go on."
Intro 376, sponsored by Vacca, would mandate that DOT publish guidelines on its website about when and where it will install traffic calming treatments. Intro 377, another Vacca bill, would require DOT to include "a detailed explanation of the reasoning behind its determination and any traffic studies or reports supporting its determination" whenever it responds to a request from the public for a traffic analysis.
Vacca said these two laws are intended to educate the public, including community boards and Council members, so that they can be more constructive participants in planning their neighborhoods. "We in the Council still see a need out there, an unmet need, to further slow down traffic," he said.
For that to happen, he argued, citizens need the ability to know what they can ask for, and if their request for traffic calming is turned down, why. He gave the example of residents in his district who kept pressing for a speed hump only to learn that they weren't an option on bus routes, or another group that petitioned for a traffic light and was denied with the sole reason being that "it wasn't in the warrant."
DOT argued against both of these laws as well. On Intro 376, Woloch claimed it was a redundant measure given that the department already has a number of publicly available standards for traffic calming devices, such as the Street Design Manual and a page in the FAQ section of its website. "We have guidelines and standards in place, so we've accomplished at least a chunk of the bill," he said.
Council Member Vincent Ignizio wasn't buying that argument, however. "This administration seeks to codify administrative policies when it suits their political needs," he said. "Then it's necessary and needed, because we want to keep it for future generations." (For example, the Council codified PlaNYC 2030 in 2008's Local Law 55.) When the Council says something deserves to be written into law, however, then the administration says it's not necessary, he claimed.
Woloch made a different case against Intro 377, saying it would add too much new work for the department. DOT conducted 4,000 different traffic studies in response to public requests last year, he explained. "If it were just one line for each of these 4,000 that could accurately encapsulate those decisions, that sounds reasonable and would be much easier for us to do," he said. But since longer responses would be necessary, he argued, it would cut into the department's ability to do other work. "We don't want more people to be injured because we cut down our workload."
After the hearing, Vacca said he was open to working with the administration to amend the bills, but that he wouldn't abandon his push. "I want to get these bills passed," he said.
Noah joined Streetsblog as a New York City reporter at the start of 2010. When he was a kid, he collected subway paraphernalia in a Vignelli-map shoebox. Before coming to Streetsblog, he blogged at TheCityFix DC and worked as a field organizer for the Obama campaign in Toledo, Ohio. Noah graduated from Yale University, where he wrote his senior thesis on the class politics of transportation reform in New York City. He lives in Morningside Heights.
Stay in touch
Sign up for our free newsletter