NYPD
GETTING AWAY WITH IT: License Plate and Placard Abuse is Rarely The Target of NYPD Discipline
12:01 AM EDT on March 16, 2023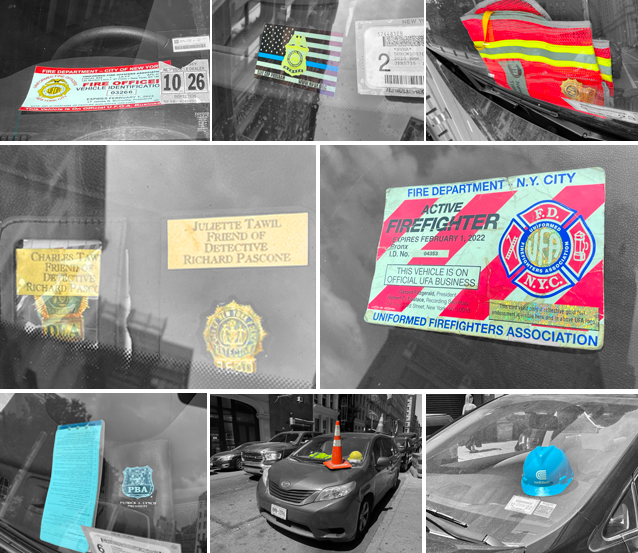 The prevalence of cops breaking laws and getting away with it is a slippery problem to quantify for criminal justice researchers. Getting away with violations and crime, after all, inherently involves tickets that aren't written and arrests that aren't made, and it is hard to draw data from what did not happen.
In my work at the city's Civilian Complaint Review Board from 1998 to 2000 and now in academia, however, I've found the best evidence of impunity are cars with mutilated, modified or covered license plates and signs that they belong to cops left on the dash. The evidence is screwed to the fenders of these cars around the clock, making them vulnerable in principle to tickets every moment they are parked and moving violations every moment they are operated. Departmental disciplinary charges, and perhaps criminal charges, could also be in order.
But with the drivers of those cars apparently subject to no regulation at all, the vehicles powerfully — and measurably — indicate the depth of police impunity.
These scofflaw cop-drivers may seem everywhere, but the NYPD does in fact occasionally discipline them for abusing placards, disguising or covering license plates, or driving unregistered cars and the like. Grievously, that discipline often comes in conjunction with unrelated offenses — and sometimes unfairly.
The emerging lesson from publicly available cases is that the NYPD may cite an officer for misusing a placard, for covering license plates or for driving an unregistered car — but only when the officer has, for some other reason, already fallen from the good graces of his or her superiors. Placard and plate-related misconduct by cops may be everywhere, but are rarely if ever the primary focus of NYPD disciplinary cases.
Take Officer Billy Dill, who according to a dossier from the Brooklyn D.A.'s office, was cited in 2015 for driving an unregistered, uninsured vehicle with a single license plate — that actually belonged to a different car. Dill's NYPD charges were issued incidental to a violent incident in New Jersey for which he was arrested, and for his subsequent attempt to obtain related surveillance footage of the incident by pretending to be investigating on behalf of NYPD.
Sometimes the date-of-incident of disciplinary charges suggest a broader story. Internal investigators building a disciplinary case against an officer might just look  at the cop's car to see if some additional red-handed charges can also be documented. One officer accused in 2012 of going AWOL and falsifying his timesheets was also cited, just afterwards,  for driving an unregistered, uninspected vehicle without a license plate while also abusing his parking placard.
This pattern holds in most of 59 disciplinary cases I've identified from those made public either through the news media or the NYPD's online Trial Decisions Library: Charges related to car credentials get tacked onto others the NYPD took more seriously.
In one case from 2008, the Department caught Officer Ronald Hobson with a covered license plate — but only incidental to catching him going 160 miles per hour on the Bronx River Parkway. Another officer, unnamed in the documents I've seen, was cited in 2014 for abusing his parking placard on the same day he was suspended by the NYPD for statutory rape. Similarly, the NYPD might never have noticed Officer Benny Lantigua's bootleg parking placard back in 2011 if he had not first gotten into trouble for pulling his gun on a restaurant worker at the tail end of an all-night bender of club-hopping and drunk driving.
When discipline gets ugly
There are exceptions to this emerging picture, and some are ugly. The prevalence of unenforced car credential misconduct means the enforcement that does happen can reek of unfair targeting, as appeared to be the case for Office Robin Hightower.
According to an administrative judge's ruling in the matter, the NYPD Internal Affairs Bureau (IAB) opened an investigation of Hightower in 2008 based on "anonymous letters" which alleged, among other claims, that Hightower was defrauding her insurance company by using an old address in the Bronx to win lower auto insurance premiums, and that she was misusing her NYPD parking placard. IAB substantiated both charges, but the judge found that IAB could not establish that Hightower did not live at the address on file with the insurance company, or even what she was paying for her insurance. Yet NYPD adjudicators did find Hightower guilty of abusing her parking placard at a bus stop adjacent to her home, based on her own admission. Hightower commented at the hearing that on that very morning there'd been eight cars belonging to cops from her local precinct parked in that very same bus stop, claiming she was "getting into trouble for something that a lot of cops do."
But why was Hightower, specifically, getting into trouble for something that a lot of other cops do?  The case summary and contemporary media reports reveal that she had complained of sexual harassment by her commanding officer, and was suing him (and the NYPD) for discrimination. The IAB investigator — who also tried to enlist prosecutors in two jurisdictions to file criminal charges against Hightower for the insurance allegation — had worked under that same commanding officer before transferring to IAB. Somehow the administrative judge dismissed the theory that the whole case was retaliatory, reasoning that if it were, IAB would have substantiated an allegation of drug trafficking included in the "anonymous letters."
The reasoning was indefensible; in 2008, when Hightower's case was heard at One Police Plaza, the surrounding area was about as rife with private NYPD-affiliated cars from states far and wide parked on sidewalks and at bus stops as it is now. It takes real intellectual and visual blinders to imagine that isolated disciplinary charges focused solely on addresses used for insurance and on use of parking placards could be anything but retaliatory.   
Of the 59 publicly available cases, charges for car credential misconduct stand alone — without charges falling into some other category — in just 19 instances. In most of these cases, available records offer no narrative detail, but those with more documentation, like those cited above, strongly suggest that these individuals were singled out for ulterior reasons.
We should be suspicious, then, when we examine other instances in which the NYPD appears to get aggressive over car credential misconduct. Arthur Golfphin, a police officer assigned to a Midtown command, was arrested in 2019 for felony forgery and theft-of-service after driving over the Verrazzano-Narrows Bridge with a modified license plate. Simple enough.
Examining both the criminal case file and the summary of the NYPD disciplinary case, however, we learn a more nuanced picture: Golfphin was already in some hot water after a supervisor had ordered him to quit an unauthorized second job. Golfphin apparently had not done so, and the NYPD was building a case. NYPD documents suggest that someone in the NYPD, aware of the modified plate, awaited Golfphin's commute home specifically to catch him committing an arrestable act. To wit, the arresting officer of record out in Staten Island was the same Midtown-assigned supervisor who had ordered Golfphin to quit his second job.
By all signs, Golfphin was already targeted, but the arrest offered supervisors leverage for a strong disciplinary case, which indeed resulted in an administrative judge's recommendation that Golfphin be fired. The NYPD would surely dispute this obvious pattern of neglecting car credential misconduct by its officers except as a secondary enforcement mechanism, perhaps by arguing that it is based on limited documents and evidence. But in absence of real transparency, we have to go with what we have, and the signs point to widespread tolerance of car-related misconduct except for officers already targeted for some other reason. 
Those concerned with unaccountable police and all manner of car-credential misconduct must be wary of the NYPD's underlying motives when discipline is actually meted out. Demanding more enforcement against this sort of misconduct should be accompanied by demands that enforcement be specifically focused, and equitably applied.
Noah McClain is a sociologist who teaches at Santa Clara University in California. Before pursuing sociology, he was an investigator of police misconduct for New York's Civilian Complaint Review Board. Read his work here or on Twitter at @NoahMcClain10.
Stay in touch
Sign up for our free newsletter