NYPD
Are Police Disciplining Cops Who Deface their Plates? Who Knows?!
12:01 AM EST on February 1, 2023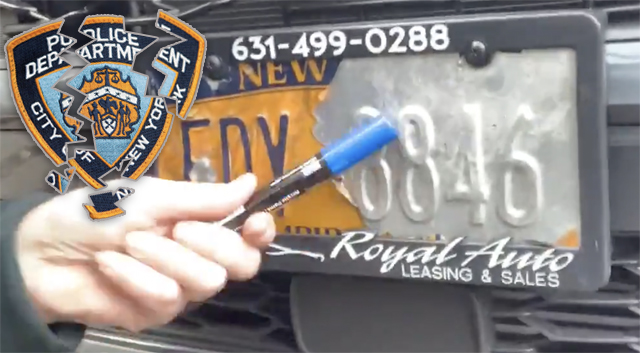 The NYPD won't reveal if it is disciplining officers who intentionally cover or deface their license plates to avoid speed and red-light enforcement cameras.
On Tuesday, the agency denied a Freedom of Information Law request filed just one week ago by Streetsblog that sought to determine if the agency had disciplined the owners of 13 cars with NYPD placards or other department markings that our reporters discovered with unreadable license plates, a violation of state law.
"The New York City Police Department has denied your FOIL request ... on the basis of Public Officers Law Section 87(2)(b) as such information, if disclosed, would constitute an unwarranted invasion of personal privacy."
It is unclear what personal privacy would be invaded; Streetsblog had not requested the names of the officers, just simply whether any had been disciplined. In any event, the denial runs counter to the caselaw regarding disclosure rules, one lawyer said.
"Your request seeks information relating to the performance of these officers' duties (i.e., something they were disciplined for)," said Heather Murray, the managing attorney of the Cornell Law School First Amendment Clinic's Local Journalism Project, which represents Streetsblog. "Courts have generally found that this information is public, including names."
Murray cited a still-relevant 1995 opinion by the state Department of State's Committee on Open Government.
"Neither the characterization of documents as 'personnel records' nor their placement in personnel files would necessarily render those documents 'confidential' or deniable under the Freedom of Information Law," wrote then-Executive Director Robert J. Freeman in his ruling.
Specifically regarding the NYPD's citation of Public Officers Law 87(2)(b), Freeman was even more suspect.
Public officers and employees enjoy a lesser degree of privacy than others, for it has been found in various contexts that public officers and employees are required to be more accountable than others," he wrote. "The courts have found that, as a general rule, records that are relevant to the performance of a their official duties are available for disclosure."
The NYPD's reluctance to provide the information will come as a shock to readers of Streetsblog. Last week, in a story about the larger implications of plate defacement, a City Hall spokesperson promised that "the relevant city agency will review each incident of alleged violations and evaluate them for potential disciplinary action."
Streetsblog intends to appeal the ruling, citing Freeman's and others' opinions.
The records we sought were culled from a list of the 55 plates belonging to cops, firefighters and other so-called public servants that we found defaced, removed, tampered with or covered during a three-month investigation called "Criminal Mischief" (which also had a theme song that was an "earworm," according to The New Yorker). At least 13 of those scofflaws were cops (or identified as such), and some are the worst offenders in town:
KKV5377
Nine speeding tickets and three red-light tickets between 2014 and 2020, according to the city ticket database.
No camera tickets since July 3, 2020, presumably when the driver removed the front plate, as detailed here.
Spotted with an NYPD placard parked illegally in a bike lane on Adams Street in Brooklyn.
JMS3724
774AUZ
This cop hasn't gotten any tickets
But we found his Tesla parked in the NYPD-only parking space in front of the First Precinct station house without any registration or front plate, a violation.
DGV3950
Thirty-one speed-, red-light and bus-lane camera violations since 2014, most recently on Jan. 16, 2023.
We spotted this guy twice, both times using a 71st Precinct placard, despite being illegally parked in Lower Manhattan, a long way from that Brooklyn station house. We saw him first on Dec. 5 and again on Jan. 18 in the same area.
Both times, his plate was defaced with scraped-off letters.
FXW2002
Sixteen speed-, red-light and bus lane violations since 2016.
Spotted in Downtown Brooklyn with a severely defaced plate and an NYPD placard.
FDY8846
Sixteen speed-, red-light and bus lane violations since 2015, eight in the last two years.
Spotted near 1 Police Plaza with an NYPD placard and a severely defaced plate.
EHP8519
Thirty-six speed-camera and five red-light tickets since 2015.
Spotted under the BQE in the 84th Precinct with two severely defaced plates (which we repaired).
JEA1745
Five speeding, red-light or bus-lane tickets between 2019 and mid-2020.
Spotted in the police parking area near the 78th Precinct station house in Brooklyn with no back plate.
EGT5750
Nine speeding and five red-light tickets since 2016.
Spotted in the police parking area near the 78th Precinct station house in Brooklyn with a severely defaced plate.
GEH9762
One speed camera ticket last year.
No wonder there are so few tickets — the car's front plate was entirely devoid of paint (see picture).
Spotted with an NYPD placard on Ridge Street in Lower Manhattan.
ERV2670
Two speed camera tickets, but none since June 10, 2022.
Spotted on Elizabeth Street in front of the Fifth Precinct station house with an NYPD placard and two defaced plates.
EPY9846
Ninety speed-camera, eight red-light and one bus-lane violation since 2014.
We spotted this perp twice, both times on Baxter Street near the courthouses in Lower Manhattan: First, on Jan. 8 and again on Jan. 30 — both times with severely defaced plates.
2GYK27 (Massachusetts)
This out-of-state car was spotted in the Adams Street bike lane with an NYPD placard, indicating that this NYPD employee may live out of state, which is not allowed.
He did not even get a ticket for the illegal parking depicted in our video.
In all, these 13 cars have been slapped with a whopping 309 speed-, red-light or bus-lane violation tickets, or an average of nearly 24 tickets per car, which is well above what regular citizens get, Streetsblog has reported.
It is unclear if any officers have ever been disciplined for excessive reckless driving. The NYPD declined to comment on that, as well. City Hall declined to comment on the agency's denial of our FOIL request.
In a related story, the NYPD was more forthcoming about the bust of an auxiliary cop earlier this month in Queens. Responding to a query from Streetsblog, which had heard about the arrest from a police source, an NYPD spokesperson said that on Jan. 9, 21-year-old Rogerio Wishart was arrested after a car stop at 219 Street and the Long Island Expressway and was charged with having a fake plate.
Of course that charge was secondary to the other things cops said Wishart did: driving an unregistered car with "unauthorized lights" without a license, inspection certificate or insurance.
Wishart was fired as an auxiliary police officer, the NYPD said.
The agency also said it issued parking tickets to 18,952 with unreadable plates in 2022, plus another 5,943 moving violations issued to drivers of cars with said plates. The number of moving violations last year is down from the close to 12,000 moving violations the police wrote in 2021, as Streetsblog reported.

Gersh Kuntzman is editor in chief of Streetsblog NYC and Streetsblog USA. He also writes the Cycle of Rage column, which is archived here.
Stay in touch
Sign up for our free newsletter