Car-Free Parks
CAUGHT! 'Amazon' Driver Steals Open Streets Barricades Forcing Suspension of Brooklyn Program
4:26 PM EDT on April 13, 2021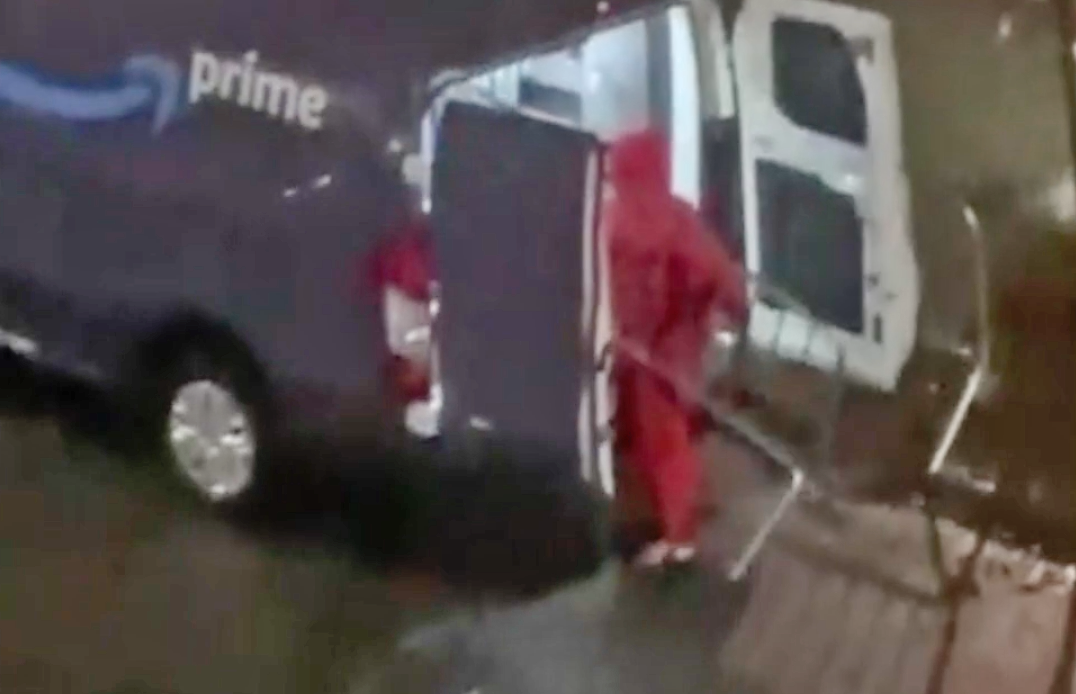 Another day, another easily avoidable setback for the city's open streets program.
In the latest evidence that a tiny minority of increasingly aggressive opponents is seeking to stop the widely popular open space program, North Brooklyn volunteers announced that they are "suspending" their efforts to prop up the city program on Driggs Avenue and Russell Street in Greenpoint after all of the city-owned barricades were stolen by a man with an Amazon-branded van on Monday night.
A video of the apparent Amazon worker stealing the barricades was posted on Nextdoor, a neighborhood-focused website, and downloaded by Streetsblog into a handy video:
On Wednesday, however, an Amazon spokeswoman told Streetsblog that the van and the man were imposters!
The vehicle in the video is a counterfeit vehicle and we're actively working with the NYPD as they investigate the incident," said company spokesperson Jenna Hilzenrath, providing no further details.
In any event, the open streets suspension — announced in a tweet on Tuesday morning — came on the heels of an earlier two-day suspension after a North Brooklyn volunteer being assaulted, two Department of Transportation workers being berated at a meeting, and equipment was vandalized:
Streetsblog has reached out to the DOT for comment and for an explanation of what comes next for the beleaguered open streets initiative. The program brought miles of recreation space to COVID-stricken neighborhoods during the height of the pandemic, but has lost steam as the mayor has promised that it would be a "permanent" fixture of the cityscape, yet has not announced any plan beyond relying on volunteers. (Two Streetsblog analysis pieces are here and here.)
Transportation Alternatives condemned the theft but said it was easily avoided — if the DOT stepped up its game.
"Open Streets require infrastructure that can't be stolen, can't be destroyed, and can't be tossed aside by entitled motorists," said Erwin Figueroa, the director of organizing for the safe streets group, which has previously urged the mayor to do better. "Permanent infrastructure is what the Open Streets Coalition has been demanding from City Hall. We need Mayor de Blasio to move with much greater urgency, especially after the violence and vandalism over the past week, to implement the permanent solutions that will secure the success of the program. Any delay will cause these unacceptable incidents to escalate and for an extraordinarily popular program to be jeopardized."
In the face of the actions of an increasingly violent minority, would-be office-seekers and current elected officials should be aware that car-free streets are extremely popular on the ground. Last month, Open Plans, the parent company of Streetsblog, commissioned a survey from a top polling firm Data for Progress about the public's support for programs that reduce car traffic and car danger on local streets.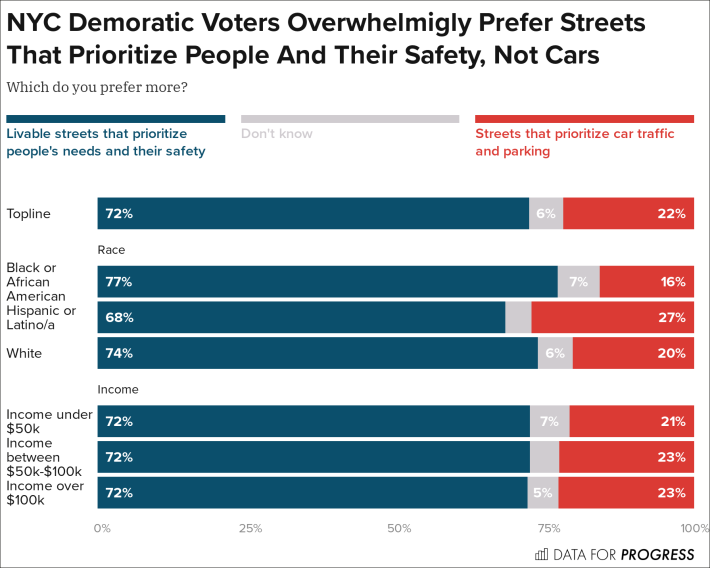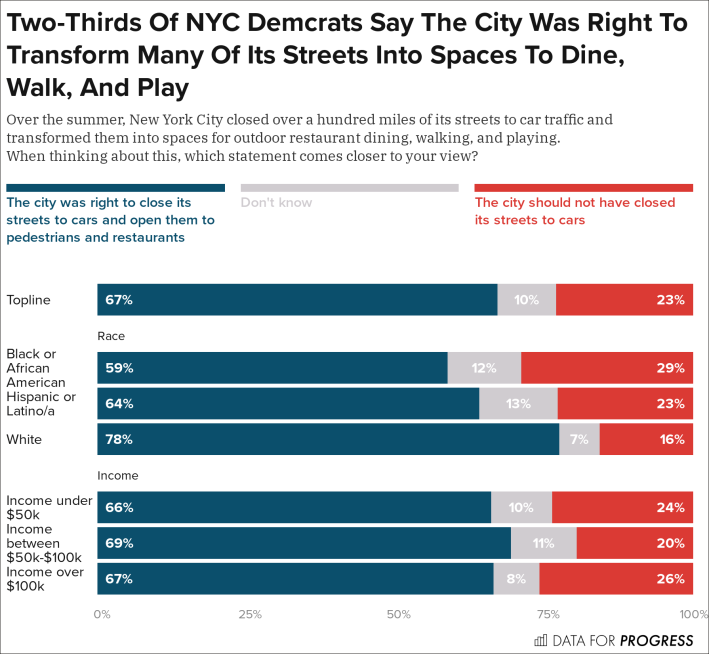 No matter how we asked the question, the answers were clear: The poll of 591 likely voters in the June 22 Democratic primary showed that the public wants more car-free space and more efforts to rein in automobiles. For instance:
65 percent of residents said that "drivers in my neighborhood need to slow down." Only 12 percent disagreed with that sentence.
72 percent said they prefer "livable streets that prioritize people's needs and their safety" vs. 22 percent that favors "streets that prioritize car traffic and parking.
67 percent agreed that "the city was right to close its streets to cars and open them to pedestrians and restaurants," while only 23 percent said "the city should not have closed its streets to cars."
51 percent agreed with the statement, "The city should build a network of people-oriented car-free streets," while only 26 percent disagreed.
51 percent agreed that neighborhood streets "should be planned more for people and places and less for cars and traffic." Only 26 percent disagreed. (The poll has a margin of error of +/- 4 percent, which is standard.)
Those numbers suggest broad popularity — but may ultimately prove powerless in the face of a century of car culture that has swiped roads and sidewalk space from pedestrians even in the most pedestrian-friendly city in the country.
The mayor has said that he wants open streets to be "permanent," but he's created no roadmap going forward. As such, it's helpful to look at the experience of other cities in how they created more space for people by reducing the violence, pollution and congestion that are the collateral damage of the automobile age.
The city of Barcelona, Spain, is famous for its singular architectural feature called Superblocks, which basically eliminate thru-traffic for cars on small residential streets inside of major arterials. First, here's a video by Streetfilms of how that works:
The program is hugely popular today, but it started with a single "superblock" in the 1990s. When the city tried to expand it, drivers fought back. Residents eventually won their safe public spaces and the rest is history.
But history might not have played out that way. Just as we are seeing in New York, resistance was strong until residents started to see how much better their lives were when road noise, road violence and pollution were removed from their faces. A long analysis of the revolutionary street design in Vox made clear the singular challenge: "No change in urban space, especially one that deprioritizes cars, is safe from public backlash until permanent, structural changes have been made."
And Salvador Rueda, who was involved in the creation of the first superblock, told the Times that the key lesson from creating the program was that initial opposition gave way to acceptance once people saw the benefits.
"The main problem is the resistance to change that occurs at the beginning of the implementation of the superblocks," he said.
That's why so many open street supporters are urging Mayor de Blasio to act now to save the program by building it out so that its benefits can become starkly clear to everyone — not just the thousands of people who enjoy the best open streets, but all New Yorkers.
Until then, the city has simply created an initiative that relies on volunteers to put out barricades, which mostly just annoy drivers and don't create truly safe public space for kids or other pedestrians. For the most part, open streets are not Barcelona-style superblocks.
But that could change. The issue of creating open space is popular with mayoral candidates.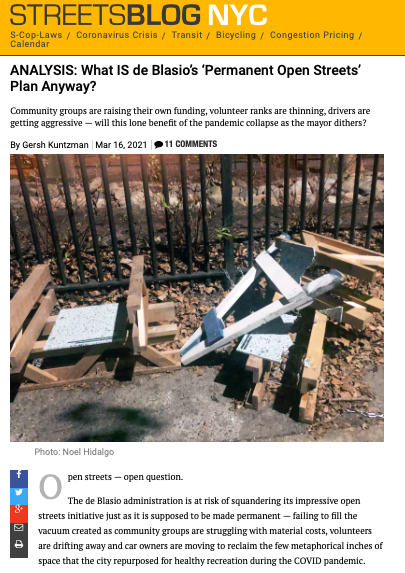 "During the pandemic, we learned we can move faster. The Open Restaurants program was built almost overnight. Previously, it would have taken many months of debate to put together a program like this," former Department of Sanitation Commissioner Kathryn Garcia said in a statement to Streetsblog. "In order to implement the dramatic shift in use of open space, we need to continue to move this quickly ... to redefine our streetscape and create vibrant outdoor spaces that will attract tourism and drive our recovery.
"My fundamental goal when it comes to public space management is greening and transforming our streetscape to put people first, and ultimately, to deliver a safer, healthier, more equitable city," Garcia added. "I support Transportation Alternatives's proposal to convert 25 percent of street space currently reserved for cars into space designed for people. It's an ambitious goal, and to get there we will need to accelerate street and sidewalk construction by reinstating a fast capital project program ... I would create permanent open and complete streets, which will not only prioritize the wellbeing and safety of pedestrians and cyclists, but will also expand NYC's bike lane network by 250 miles.
Other leading candidates — Dianne Morales, Andrew Yang, Maya Wiley, Eric Adams, Scott Stringer, Shaun Donovan and Ray McGuire — did not get back to us by deadline. But in previous interviews, all except McGuire have offered broad visions for open space. (Stringer has said this; Yang has said this and his team sent over his broader open streets platform; Morales has said this; Donovan has said this; Wiley has said this; Gothamist just did a whole story about the candidates' positions today, even quoting McGuire.)
The Department of Transportation did not get back to us about what it intends to do about the stolen barricades. After our Monday story about two DOT workers who were berated at a public meeting and one North Brooklyn volunteer who was assaulted, the agency issued a statement that did not address the central questions that had been asked:
DOT will continue working with our current partners on the future of the Open Street and plan to incorporate feedback we are hearing from all stakeholders throughout the spring. As the mayor announced last week, the city will deploy resources from the City Cleanup Corps to this and other sites to lessen the burden of the volunteer staff. DOT's street ambassadors were on site last week collecting feedback; we look forward to working with the community to further transform these streets.
Council Member Steve Levin of Greenpoint and Williamsburg promised to get together with other elected officials in the neighborhood to determine what open streets work so well that they should be made permanent by the DOT. Otherwise, we have anarchy.
"It's never acceptable to assault someone," he said.
Update: After initial publication of this story, Comptroller Scott Stringer sent over the following answers to our questions, which, since it's after publication, we'll just slap down in full:
What would you do differently than Mayor de Blasio regarding the open streets program if you become mayor on Jan. 1, 2022?

As mayor, I would dramatically expand Open Streets — this program is exactly the kind of creativity and smart urban planning the local economy and communities need. 'Open Restaurant' permits would be automatically renewed each spring under my administration. We would work to expand the program into neighborhoods with low participation and, following the roadmap of the Open Streets Coalition, dedicate resources to volunteer groups that manage open streets; provide amenities, such as signage, benches, chairs, planters, and improved barriers, to provide for a safer and more inviting experience; and allow businesses in the Open Storefronts program to utilize the roadway on non-Open Streets. I also would add more benches, bathrooms, and bike parking and allow for 24/7 operation. And finally, I would task the DOT with developing a firm timeline for permanent design and capital investments so that Open Streets locations can be safer and more community-oriented in the longer term.

What is working/not working?

The fact of the matter is that if Open Streets aren't truly open, protected, and permanent, they're not working. The City DOT has over 5,000 employees and has added more than 700 during the de Blasio administration, but too many are focused on handling and regulating car traffic, and not enough are dedicated to Open Streets and sustainable transportation. In my administration, a greater share of DOT staff and staff from other agencies will be devoted to making sure that Open Streets and other innovative street projects are successful in every community. Genuine partnerships with local community members and community groups will be key in this mission.

The Open Streets program was also a lifeline to countless restaurants that struggled to stay open amid shutdowns last year. It was crucial to the survival of tens of thousands of restaurants and was critical in saving thousands of jobs. But more could have been done to support local communities that relied on the extra outdoor space for recreational activities and for small businesses that were struggling to stay open. Last September, I called on the City to allow the City's small business and retail community to offer more goods and services outside and to extend Open Streets into a year-round program and to provide guidance around heat lamps and other ways to adapt for cooler weather. I've also highlighted the disparities in the distribution and success of the Open Streets program and pointed out that a pure volunteer-model doesn't work everywhere and that the City needs to offer real support for maintenance, traffic calming, and street redesign.

Should some streets simply be redesigned as car-free plazas or parks to eliminate the need for volunteers moving barricades (and risking harassment and assault) in the morning and at night?

Absolutely. Many of these streets should be fundamentally redesigned and converted to be car-free or shared streets where cars and delivery vehicles are only allowed as "invited guests" and restricted to five miles per hour.

Open Streets are a great tool, but they are only one of many — we need to truly redesign our streets to prioritize both sustainable transit and community uses. That means a robust network of protected bus and bike lanes; wider sidewalks for pedestrians, wheelchairs, and strollers; and more space for seating, dining, plazas, bus shelters, protected bike parking, street trees, centralized garbage collection, bathrooms, and playgrounds.

The pandemic has clearly shown that entire blocks can be closed off safely and opened to the community for large plazas, "shared streets," mid-block playgrounds like we have in Crown Heights, and Barcelona-style "Superblocks." I've also specifically pointed to the streets outside of schools as potential areas to make car-free and build out shared streets. It's time to get it done.

What is your broader goal with public space management in this city? (Hint: Several candidates have put out broad visions of, say, a new office of "public space management." This is your chance to give us paragraphs of vision if you want.

I'm proposing the most far-reaching, comprehensive, and visionary transit and streets plan that won't just bring us back from this pandemic, but will chart the path for a fairer, safer, more sustainable and inclusive New York City than ever before. My plan for our streets and public space includes major capital projects like scaling back our highway infrastructure and converting part of the Brooklyn-Queens Expressway into a linear park, and aggressive timelines for expanding our network of busways and protected bike lanes.

In order to realize my vision for our streets, I plan to redesign the planning and community engagement process, taking inspiration from the Citi Bike rollout. I've also proposed scaling back and streamlining processes at the Department of Design and Construction which has served more as a bottleneck than as an expediter for streets and transit projects, and moving more of that authority into the DOT. The DOT will:

Set firm goals and criteria for the number of plazas, bike lanes, bus lanes, slow streets, bus shelters, mid-block playgrounds, and other investments in each neighborhood;
Crowdsource suggestions and ideas for locations with an interactive website;
Conduct targeted outreach to those who lack the time and resources to attend community meetings; and
Work with community members and community boards to help with the "where" and "how" of achieving these firm benchmarks — but not act as a veto point.

And with a number of smaller interventions like benches and bike racks, the DOT should be empowered to install this street furniture unilaterally.

Gersh Kuntzman is editor in chief of Streetsblog NYC and Streetsblog USA. He also writes the Cycle of Rage column, which is archived here.
Stay in touch
Sign up for our free newsletter