Chuck Schumer
The NBBL Files: Chuck Schumer "Doesn't Like the Bike Lane"
1:38 PM EST on December 20, 2012
Editor's note: With yesterday's appellate ruling prolonging the Prospect Park West case, Streetsblog is running a refresher on the how the well-connected gang of bike lane opponents waged their assault against a popular and effective street safety project. This is the third installment from the six-part NBBL Files.
This piece originally ran on October 5, 2011.
This is the third installment in a series of posts examining the tactics employed by opponents of the Prospect Park West redesign. Read the first post and the second post.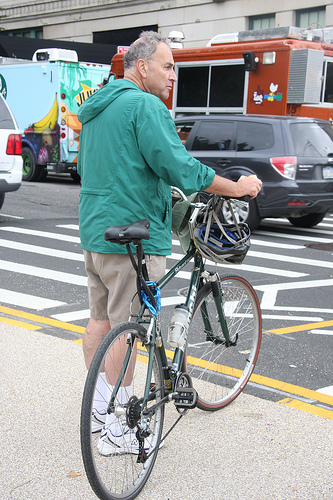 Throughout the Prospect Park West bike lane saga, intense speculation has surrounded New York's senior senator, Chuck Schumer. Both his wife, Iris Weinshall, and his daughter, Jessica Schumer, played leading roles in the fight against the redesign, but Schumer's office remained studiously silent throughout. "I am not commenting," Schumer repeatedly told the New York Times when asked about the bike lane this March; in later press conferences, his staff barred reporters from asking about it.
Despite his public attempt to remain neutral, Schumer told opponents of the bike lane that he personally opposed it, according to correspondence obtained by Streetsblog via freedom of information request.
Members of the anti-bike lane group "Neighbors for Better Bike Lanes" also attempted to use the senator's political power and network of contacts to their advantage. They exploited his connections to get access to top political consultants and hoped to use his clout to pressure local elected officials. David Seifman at the Post has reported that Schumer asked City Council members what they would do about the bike lane. Schumer may also have discussed the project with Mayor Bloomberg himself, according to a message from one leading bike lane opponent.
Schumer apparently revealed his opposition to the bike lane to NBBL leader Louise Hainline, who lives in the penthouse of the same Prospect Park West apartment building the senator calls home. "Schumer can't help much with this issue, but I have seen him and he doesn't like the lane," wrote Hainline to two bike lane opponents on June 29, 2010. Though Hainline said Schumer "can't help much," NBBL repeatedly attempted to use his connections and clout to aid their efforts.
Bike lane opponents sought to wield the senator's political influence to pressure local elected officials. Specifically, Hainline believed that she could leverage her Schumer connection to win the backing of City Council Member Steve Levin.
In an e-mail to a personal friend on December 24, 2010, Hainline reported on her recent meetings with members of the City Council. She came away believing Council Member Brad Lander wouldn't turn against the lane, but that Levin might. Wrote Hainline: "Stephen Levin is a protégée of Vito Lopez, who if you are reading the papers is in some hot water, so Levin's looking for some god father, and may want Vacca or Schumer to protect him, maybe both."
It's not clear whether Hainline's plan for Levin was based on her recent conversation with him or was simply wishful thinking. Levin has not taken a public position on the bike lane, even when asked about it directly.
No written evidence of Schumer's direct lobbying on the bike lane has surfaced, but one email is quite suggestive. On December 3, 2010, bike lane opponent and former deputy mayor Norman Steisel wrote to Weinshall: "Also heard abt a purported conversation betwn the mayor and our sr. senator you might find of interest." In all the documents obtained by Streetsblog, the extent of Steisel and Weinshall's communications was limited to the Prospect Park West bike lane, suggesting that the conversation "of interest" between Schumer and Bloomberg was likely about the same topic.
Weinshall, Hainline, and Jessica Schumer also tried to enlist a veteran of Chuck Schumer's press shop. On July 12, 2010, Jessica Schumer reported on the latest ally her family had recruited in their fight against the bike lane: one of the state's top media consultants. "My mom talked with Risa Heller on Saturday night - she used to do my dad's press and then went on to work for the governor and now does PR work," she wrote. "She said she would be willing to help us out a little - so I can get in touch with her if you would like." Hainline said that she'd be interested, and Schumer agreed to contact Heller.
A few days later, Hainline proposed smearing Transportation Alternatives and Streetsblog for receiving funding from Mark Gorton, who at the time was enmeshed in a lawsuit with the record industry over his Limewire file-sharing software. "I'll take a look at it this weekend," Jessica Schumer told Hainline, copying Weinshall, "and will see what risa thinks of that angle as well."
Nine days after Jessica Schumer first reached out to Heller, Hainline told two NBBL members: "We also have some advice from a media person who cannot be public but was recommending a press conference when we file the suit."
Heller was the only media professional mentioned in the NBBL communications obtained by Streetsblog during this period, but she specifically denied that this email referred to her. "Iris reached out to me and as much as I love her I declined to get involved," Heller told Streetsblog.
Schumer's current staff appear to be keeping a close eye on reports that link him to the bike lane opposition. Of note is an email from Weinshall to two of Schumer's top staffers, Martin Brennan and Mike Lynch. Brennan is Schumer's New York state director, Lynch his chief of staff. The content of the email was of little consequence -- a friend sent a clip from a Streetsblog article about the Schumer family to Weinshall, who forwarded it on to Brennan, Lynch and Jessica Schumer -- but it was sent to their Senate email addresses, suggesting official business.
There remains much that we don't know about Schumer's involvement in the fight against the bike lane. We don't know whether he played a role in convincing Gibson Dunn partner Randy Mastro to provide ample legal resources at no cost for the lawsuit backed by his wife and daughter. We don't know what the senator said about the bike lane to City Council members or to Mayor Bloomberg. There is solid evidence, however, that Chuck Schumer, like the rest of his family, opposed the Prospect Park West bike lane, and that his political stature was vital to the fight against it.
Noah joined Streetsblog as a New York City reporter at the start of 2010. When he was a kid, he collected subway paraphernalia in a Vignelli-map shoebox. Before coming to Streetsblog, he blogged at TheCityFix DC and worked as a field organizer for the Obama campaign in Toledo, Ohio. Noah graduated from Yale University, where he wrote his senior thesis on the class politics of transportation reform in New York City. He lives in Morningside Heights.
Read More:
Stay in touch
Sign up for our free newsletter