Bloomberg Announces Carpool Rule for Manhattan-Bound Drivers
After a morning and afternoon when car traffic completely clogged NYC streets and river crossings, Mayor Bloomberg announced new restrictions for drivers entering Manhattan via bridges and tunnels on Thursday and Friday. On most crossings, only cars with three or more people will be allowed to enter Manhattan.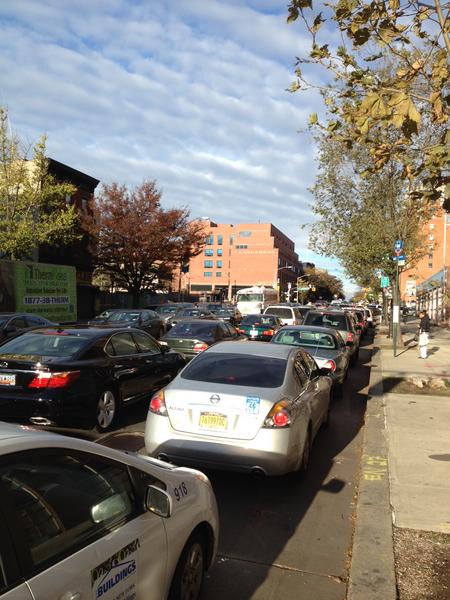 "Anybody that tried to drive around New York City today realized there are a lot of cars on the road," Bloomberg said at a press conference. "The streets can only handle so much."
From 6 a.m. to midnight tomorrow and Friday, only motor vehicles with three or more occupants are allowed to cross the Lincoln Tunnel, Henry Hudson Parkway, Triboro RFK Bridge, Queensboro Bridge, Williamsburg Bridge, Manhattan Bridge and Brooklyn Bridge. The Holland Tunnel, Hugh Carey (Brooklyn Battery) Tunnel and Queens Midtown Tunnel remain closed. Harlem River bridges managed by DOT and the George Washington Bridge were not named by the mayor for HOV-3 restrictions.
Mayor Bloomberg said that Governor Cuomo had agreed to HOV-3 restrictions on MTA bridges connecting to Manhattan.
The restriction will apply to taxis, except for the hours between 4 p.m. and midnight to facilitate shift changes. Exemptions also apply to paratransit, commercial and emergency vehicles.
Bloomberg also said that there will be "bus lanes on key corridors." The HOV restrictions themselves should also help bus riders get where they need to go, as fewer cars jam the streets.
Earlier this afternoon, Cuomo and the MTA announced a partial restoration of subways and temporary bus service between Manhattan and Brooklyn, effective tomorrow morning.