The Bronx Gets Its Second Select Bus Service Route
Yesterday marked the launch of Select Bus Service on Webster Avenue, speeding transit trips on a critical north-south corridor that lacks convenient subway access. To keep buses in motion, NYC DOT and the MTA upgraded the Bx41 route with dedicated bus lanes, pre-paid fare collection, and all-door boarding. Bus bulbs will be constructed at SBS stops along the route next year. The introduction of faster, more reliable transit on Webster Avenue will speed trips for 20,000 daily riders on the Bx41 and complement the city's plan to foster more intensive mixed-use development along the corridor.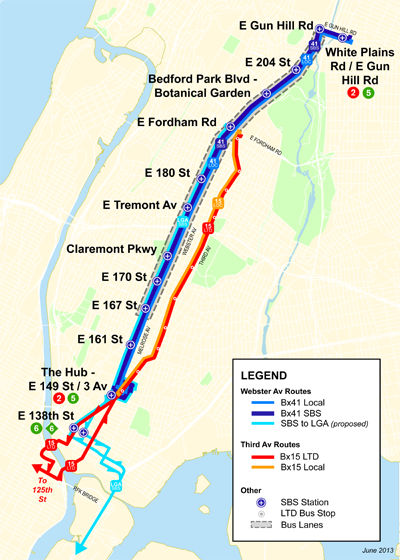 Before these improvements, the Bx41 ranked as the most unreliable bus route in the Bronx. With faster boarding, buses will be able to stay on schedule and won't bunch up so much. The MTA estimates that SBS will increase bus speeds between 15 and 20 percent on the route.
While bus ridership has been trending downward citywide since Albany transit raids and other budget pressures led the MTA make wide-ranging service cuts in 2010, SBS routes have attracted new riders. The city's first SBS route, implemented on Fordham Road in 2008, cut travel times by nearly 20 percent and grew ridership by 7 percent, according to the Straphangers Campaign. On First and Second Avenues in Manhattan, an 18 percent improvement in bus speeds led to a 9 percent uptick in ridership.
Speedier, more reliable transit fits into a broader plan for Webster Avenue, which was rezoned in 2011 to allow for more commercial and residential development. The New York City Economic Development Corporation is working to foster more mixed-use development on the Webster Avenue corridor between Gun Hill Road and Fordham Road. "This new service will not only make travel easier and faster in the Bronx — it's also central to our larger efforts to bring new life and economic strength to Webster Avenue," Mayor Bloomberg said in a statement released today.
Together with Manhattan, which has SBS on the East Side and on 34th Street, the Bronx is now the second borough with two SBS routes. Political support for SBS seems to be especially deep and broad in the Bronx. State Senator Gustavo Rivera has been a strong supporter of the Webster Avenue project and has called for upgrades to bus service on the Grand Concourse. Council Member Joel Rivera, Borough President Ruben Diaz, Jr., State Senator Jeff Klein, and Congressmember Jose Serrano all hailed today's SBS launch in the city's press release.
Next up for Select Bus Service: The long-awaited upgrades on the Nostrand Avenue corridor in Brooklyn, where SBS is slated to start service later this year.